You are constantly on the lookout for engaging and helpful resources as a teacher or homeschooler. While worksheets, games, and activities can be incredibly useful, sometimes the best approach is full simulations. Enter Stash101. This banking and investment simulator is a complex and intuitive program. It takes a significant amount of setup and teacher training but should be well worth the effort for many classrooms. Let's see if it's a fit for your classroom!
Quick Take
Stash101 is not a one-time experience or weeklong lesson; it's a commitment. It is an excellent choice if you need a resource that will immerse your students and be a central component of your financial literacy curriculum. Your students – particularly at the middle and high-school level – will learn more from its hands-on, authentic approach than many other simulations and activities. They get to use simulated banking services, earn virtual money through jobs, use it to invest and buy items in the marketplace, and see how bills and loans work.
Stash101 Details
Stash101 is an online program that organizes student actions, investments, and banking with real-time data and interactive interfaces – just like personal finance and investment apps for adults. Teachers can run detailed reports, create friendly competitions, teach lessons –broad, lengthy overviews or quick, targeted ones – and give students accountability and knowledge they can use in the future. They make money for positive behaviors and classroom jobs like banking and tech support, allowing them to see how income and expenses work together. They can earn money, put it in savings, checking, credit card, and investment accounts, and even save for retirement with a 401(k) account.
Kids can manage their own accounts (teachers can adjust the level of control their students have over their money), and many engaging features keep students interested. They can purchase virtual items in the marketplace, pay bills, set up an office, and try to increase their net worth as much as they can. There are inspirational and valuable tips about money management, and they earn money by regularly participating, which will only increase student engagement and involvement. Think of it as an online classroom economy – a way to manage student behavior and classroom atmosphere – with a ton of money management instruction.
Signup is a snap; simply enter a valid email address and set up a password, and you're in. You can add students quickly and assign attributes to them individually or in bulk. Your students will enjoy the easy-to-navigate platform and hopefully learn a lot about banking, money management, and investing.
My Experience As A Teacher
As you navigate to the home page, you are given the option to create a free account, or you can peruse the tabs at the top of the site for information. I set up my account quickly – Stash prefers your work/school email – and you can make up a username. Once I had my account, it unlocked the true power of the program. (see screenshot below).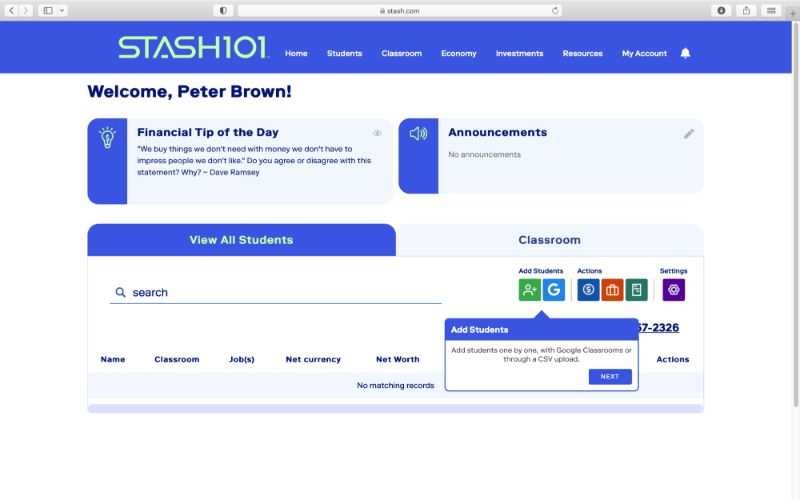 The home page lets you add students, add actions, adjust settings, and much more through intuitive tabs and buttons. There is even a money tip or empowering quote on the page to motivate you and your students.
In the Students tab, you will find several pages. The first is Approvals, which you would use to give the OK to student actions, including job applications, checks, loan applications, student avatars, and time cards, where you can check their hours and wages. The second is the Leaderboard (see screenshot below), displaying net worth and investment performance rankings once you set up your students.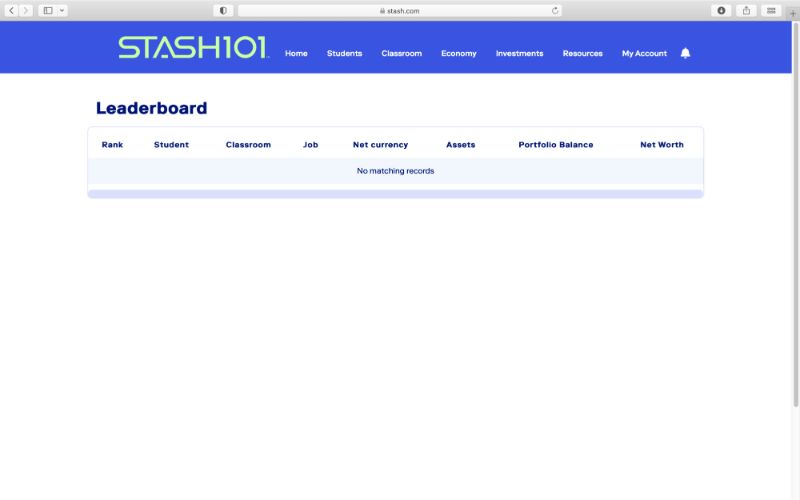 The News Log shows student actions, which keeps them honest and their transactions transparent. The final tab is the Reports (screenshot below), where you can see Student Summaries and Stock Market Performance reports.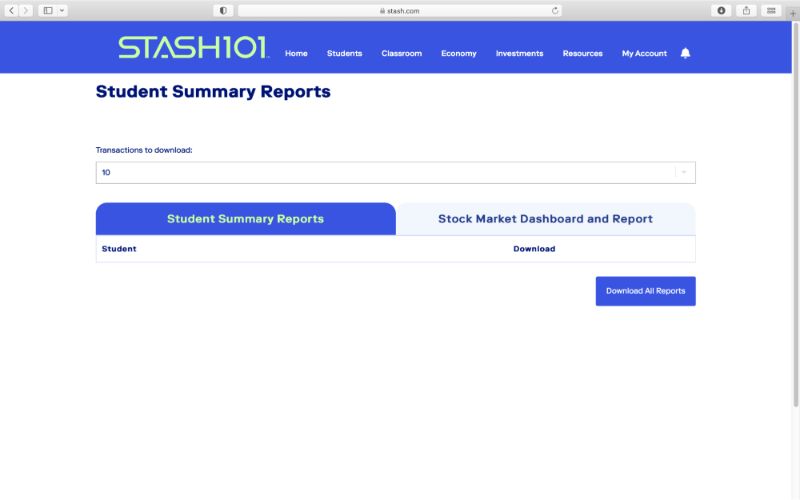 In the Classroom tab, you can input Announcements for your students to see, and the 101 Wheel, which introduces unexpected events that affect their finances, both positive and negative. You will also notice a Marketplace where you can create and list items for sale that kids can buy (screenshot below).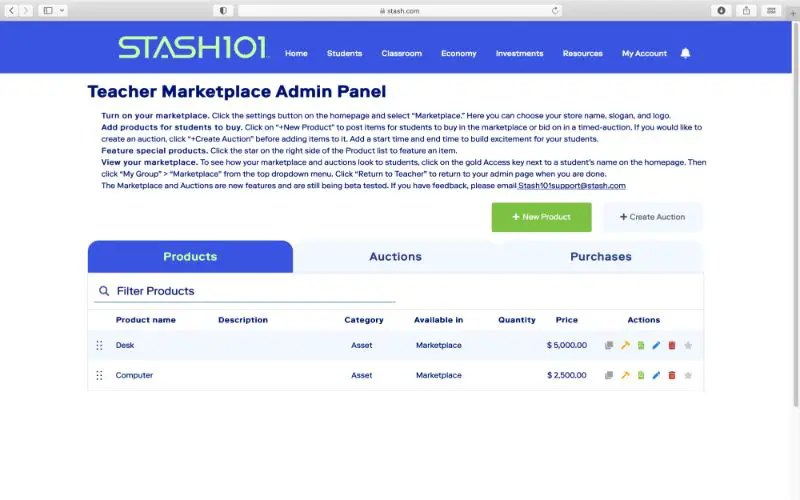 One powerful tool is the Quiz section, where you can create quizzes or use any of the several pre-made quizzes that Stash offers.   
The Economy tab is full of useful tools. The Student Actions page is one of the most critical, as teachers can create consequences (good and bad) for specific student behaviors, making it an effective classroom management tool. (see screenshot below).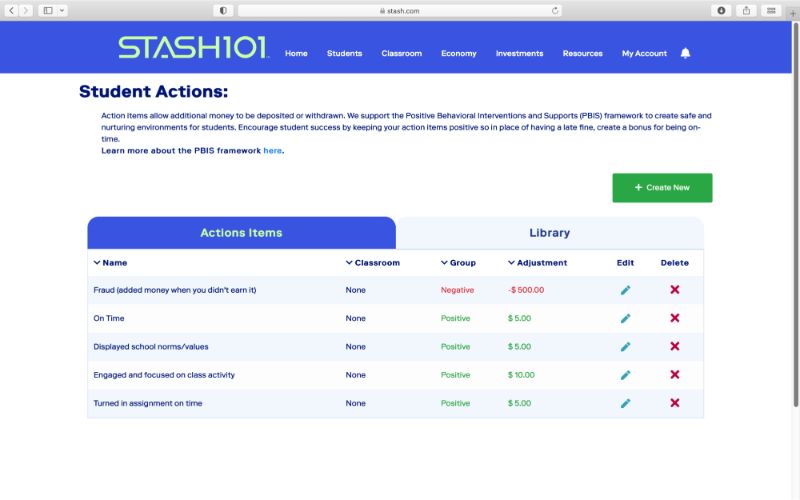 The Assets tab lets teachers modify the assets students can purchase, like desks, computers, and more (screenshot below).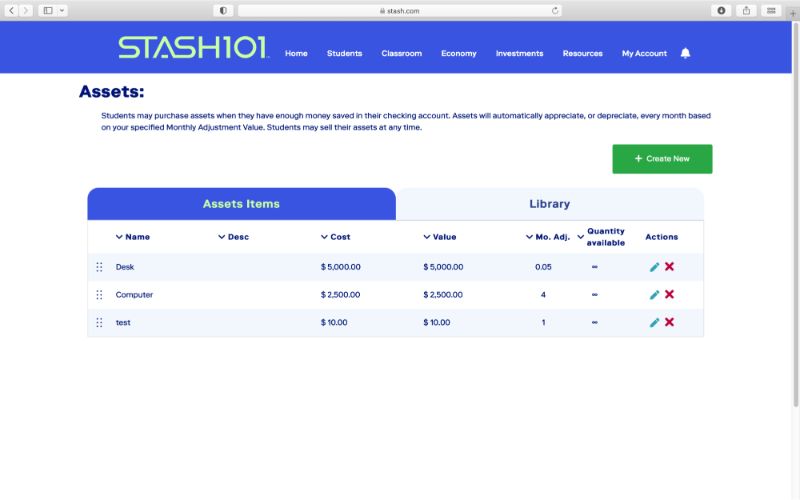 You can assign and modify banking profiles in the Banking tab. You can create bills and assign them to individual students or groups in the Bills tab (screenshot below).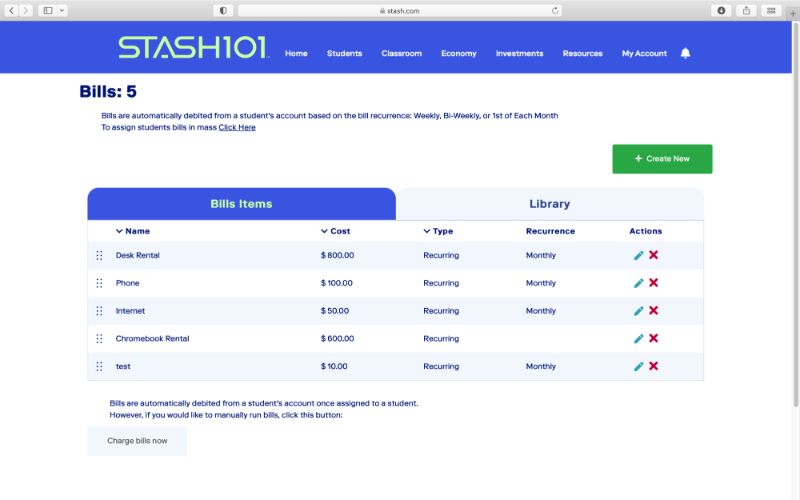 The Jobs tab is essential, as it is where educators can create jobs, edit requirements, and adjust salaries and pay periods – kids can learn a great deal about employment through these "jobs" (screenshot below).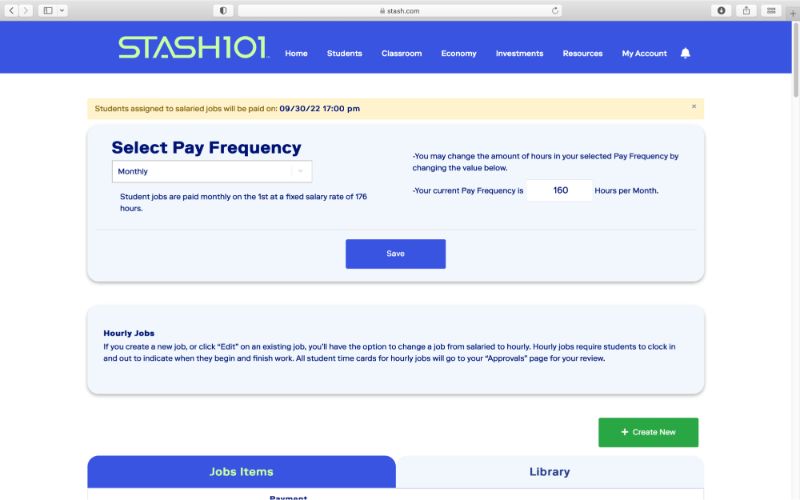 On the Loans tab (screenshot below), you can create loans to lend to kids, complete with APR and pay periods, reflecting realistic terms for students to learn about lending. There is even a QR cash page where students can scan a code and deposit cash into their accounts.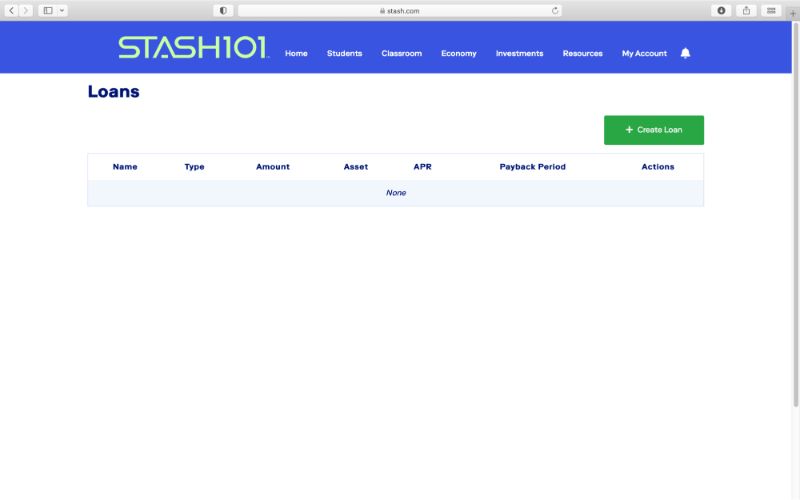 Moving to the Investments section of Stash101, you can adjust kids' 401(k) terms and show them how early withdrawal penalties work (screenshot below).
The Investment Simulator (screenshot below) is one of the most crucial and powerful tools you will find in Stash.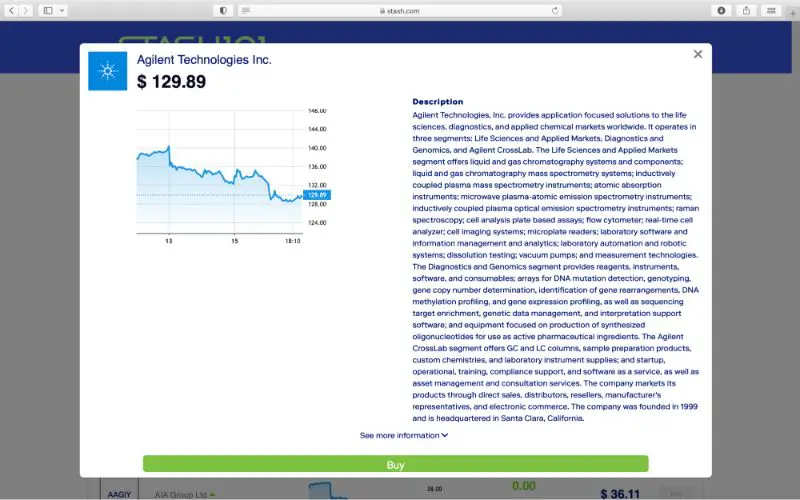 Teachers and students can explore stocks, FOREX, and cryptocurrencies with real-time, actual data. They can purchase assets and build portfolios, track investments over time, and reflect on investment decisions. When you click on a share ticker, you get a pop-up box with the share price and the option to buy (just like actual investment apps) (screenshot below).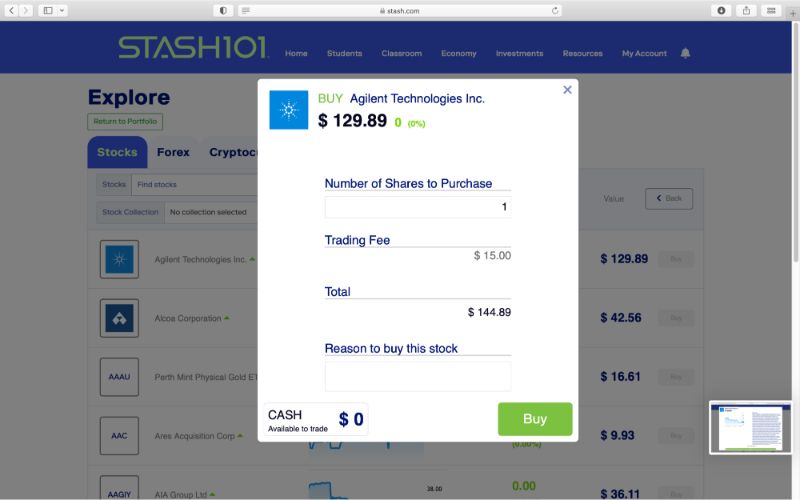 As a teacher, I found the Resources section to be the most important by far. I opted to take the free full training course, which took about an hour and consisted of video segments on the various components of the Stash101 program. I even got a certificate which should count as PD credit in many districts! After watching the videos (screenshot below), I had a solid idea of the program and how to navigate it.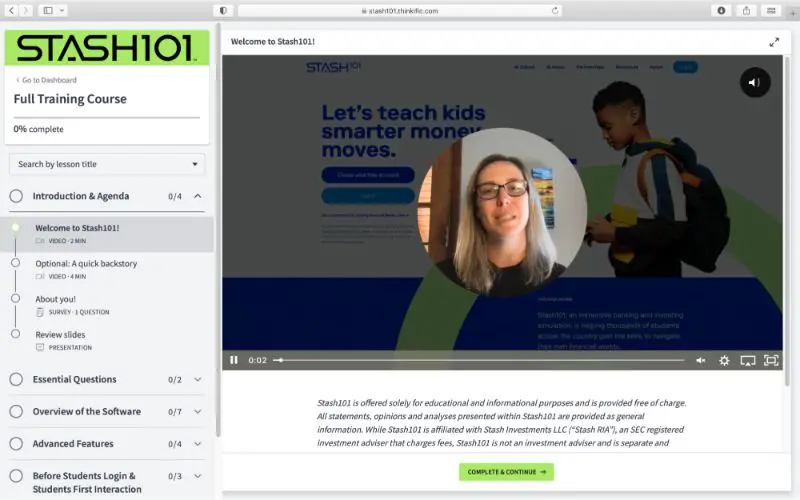 It walks you through how to adjust settings (screenshot below), set up jobs, auctions, and marketplaces, and everything else you need to get started.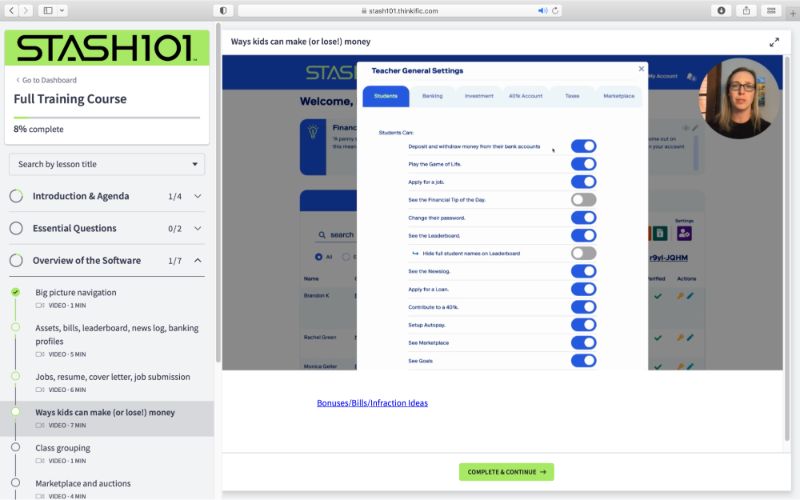 There is a section for teacher recommendations on the Ideas Board (screenshot below).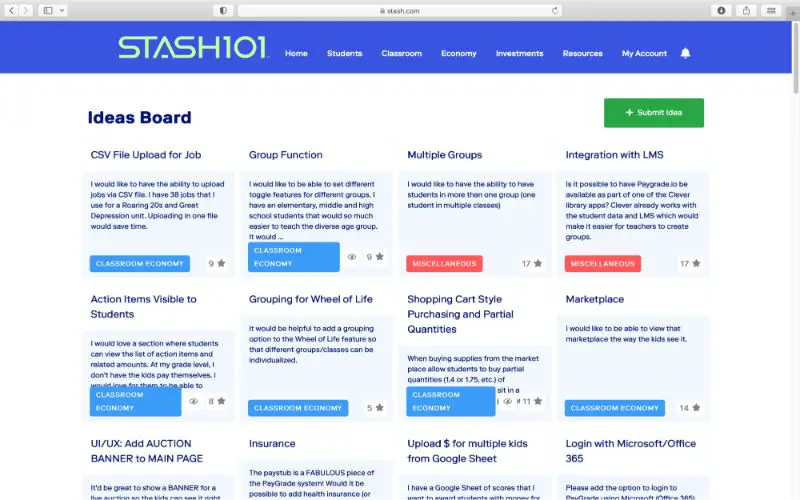 Stash101 also has archived lesson plans (screenshots below) teachers can access for ready-to-teach units in the Resources section.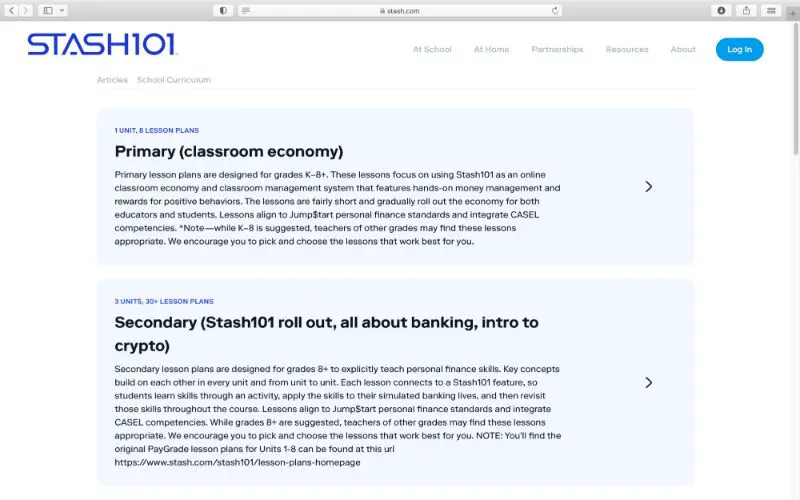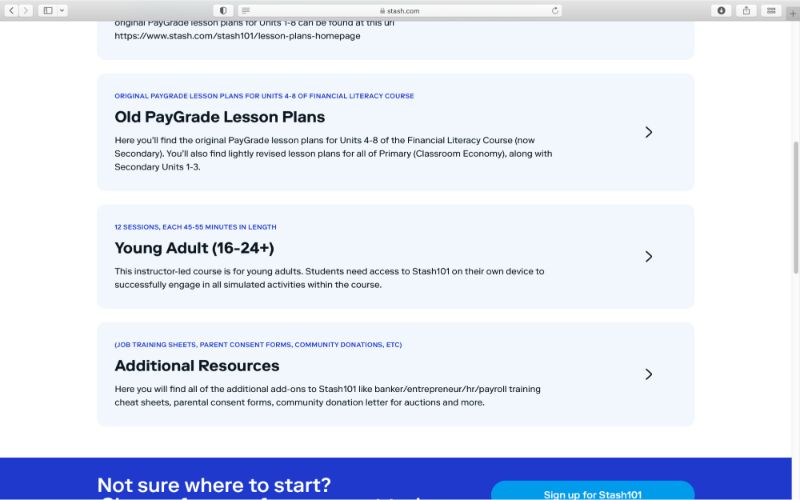 If you are struggling to take it all in, there is an entire PayGrade User Guide Google Doc, which shows the ins and outs of the website (screenshot below).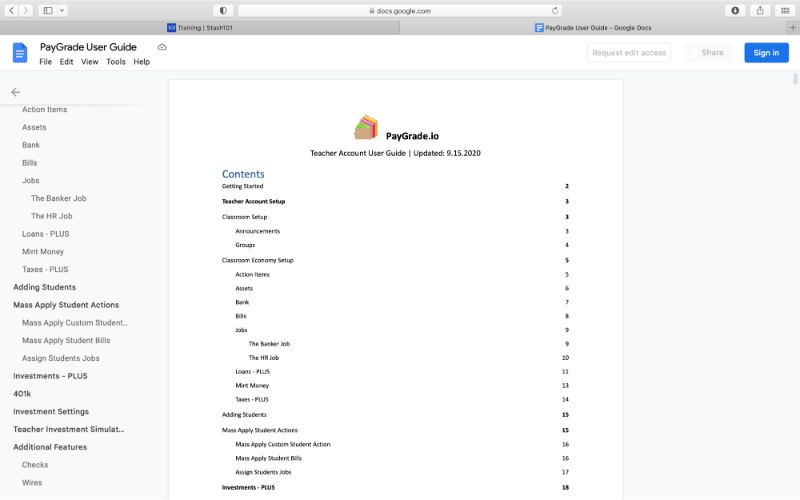 On the Training page, you can see many individual topics to click on and learn about quickly (screenshot below).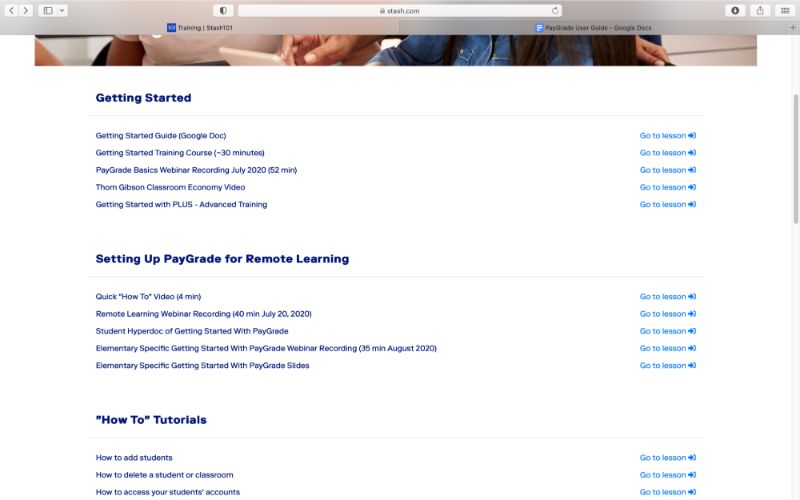 Once you have added students, you can see how to adjust their settings and accounts. I entered a sample student to get an idea of how to set him up in the system, which was straightforward (screenshot below).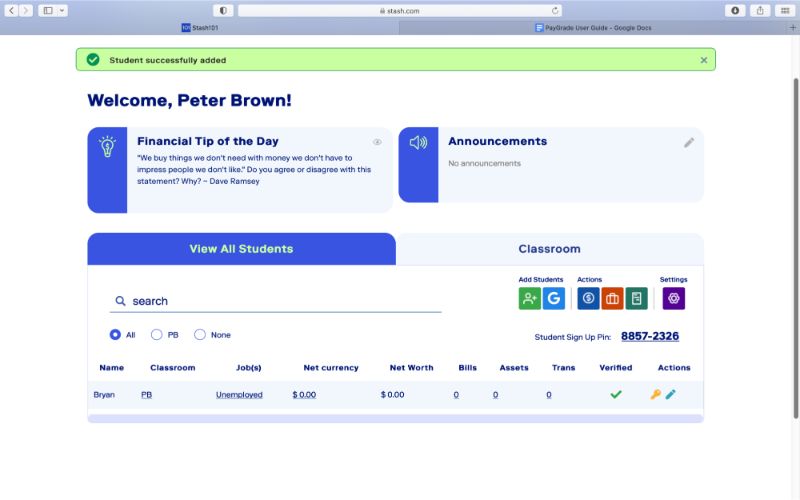 I first gave my student a positive transaction (engaged and focused on class activity) to get him some cash and keep him involved in the Stash101 platform (screenshot below).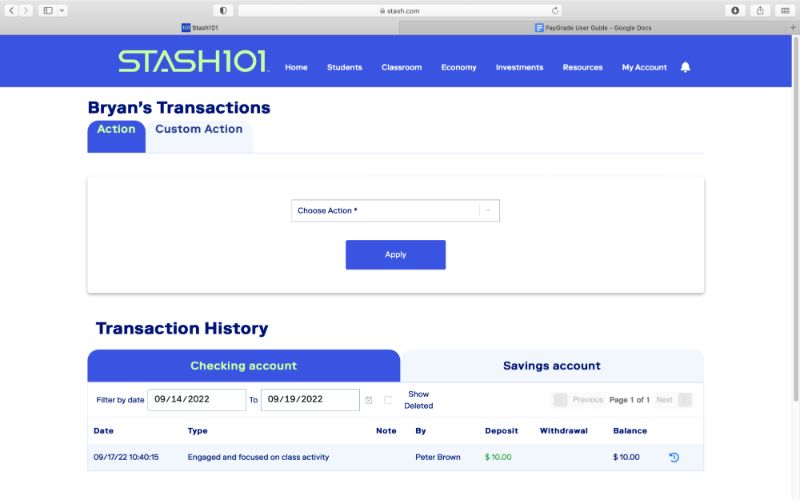 The Pros and Cons of Stash101
The program has many benefits and advantages. Some of these include:
Excellent class management tool
Real-time data to show students practical information
Immersive platform to engage students
Highly customizable
Flexible settings to fit your classroom needs
Teachers can use it across multiple financial literacy topics
Keeps students on point and truthful
However, like anything, the platform has its drawbacks, like:
Takes a lot of setup
Involves significant training to understand – and that's just for teachers
Requires daily, even hourly, monitoring and data input
May be too complex for some populations
Puts a lot of trust in students to be honest and accountable
How Stash101 Compares to Other Banking and Investing Simulations for Students
Stash101 sets itself apart from other simulations simply in the scale of its resources and algorithms. Teachers can customize it to fit their specific classroom needs and help the class run smoothly. It also can be used in distance learning, in-person, or hybrid setups, giving it an advantage over many other programs. While many investment simulations (thestockmarketgame.org and Build Your Stax, for example) are excellent at showing how stocks perform over time, none compare to the extent and depth of Stash101. Many other banking simulations may take 20 minutes or up to one class period, while this program is designed for a semester or even the whole school year. Instead of piecing together different financial literacy components, you can find the total package in Stash101.
Who is Stash101 Best For?
Stash101 is ideal for a specific group of students: middle school and high school kids who are fully committed to the program and can stay honest and accountable for their actions. Some classrooms may do better with shorter, more digestible activities that don't require as much time and monitoring. The simulation is intensive and requires work from teachers and students, but the results can be phenomenal. It prepares them for banking, employment, paying bills and taxes, getting loans, and investing for short-term and long-term horizons. If teachers can go all in on the program and get their financial literacy students on board, they will likely be happy with the results.