In a world of digital wallets, crypto-cash, and online investing, mobile budgeting apps are practically essential. But the market is flooded with dozens and dozens of apps. Not all of them are free, and not all of them are effective. As a college student, you might not have the time or energy to try multiple apps constantly. Thankfully, I've personally reviewed more than a few budgeting apps and know precisely what to look for and how they benefit you. Today, we're covering the You Need A Budget or YNAB app. Clear some space on your phone, collect your bills, and let's dive into an in-depth review of the You Need A Budget app.
Quick Summary of My Opinion and Recommendation
YNAB is a pretty comprehensive app with many essential budgeting tools for college students. While I'll cover the exact pros and cons later in this article, rest assured that it has far more pros than cons. And its biggest pro is unique to the app. You should know that it has a free trial option too. While I never fully subscribed to the app, it's one of the few that I would. The most expensive version of the app is only $14.00 a month. Considering how much an accurate budget can save a person, $14.00 isn't a steep ask. In short, I definitely recommend YNAB for experienced budgeters and those looking to manage their finances better. I voted YNAB the best of the best budgeting apps after all of my research.
Here's why.
What Is YNAB and What Does It Do?
You Need A Budget originally started a YouTube channel centered around, you guessed it, budgeting. Their videos are quick, informative, and pretty well-produced. Plus, they have videos for budgeters of any age. The app definitely cements them as finance experts. It's designed chiefly for month-to-month budgeting with long-term graphs and comparisons.
How It Works
The YNAB mobile app takes maybe a minute to download and requires profile creation. You can log in with social media as well. The app starts with a free trial with an automatic subscription if it's not canceled in time. You can cancel the subscription from your play or app store. That means you don't have to worry about being unable to cancel in time because the vendor has conveniently chosen not to respond.
Once you fully log in, you'll find the YNAB is split into five screens. Here's what each of them does.
Budget
The budget screen is automatically split into 17 sections. Each section represents a common expense. Some of these expenses include rent, food, maintenance, goals, hobbies, health, and more. At the top of the page are the accounts that cover your bills. You can manually assign each bill its specific value. For example, if your water bill is $95, you'll input that amount. (which would give you the most accurate budget.) Or you can click auto-assign, and the app will budget based on an average. So if the average water bill is $120, then that's what the app will input. The only real value, in my opinion, of the auto-assign, is for those of us that just want to dive into budgeting.
Accounts
The accounts tab lets you import your account directly from online banking. Or, you can manually input it. There's seemingly no limit to how many accounts you can add. You'll need to complete extra verification to import from online banking. To delete an account, tap, hit edit, and then tap close account at the button. Each account can have its own category in YNAB. For example, cash, credit, and checking. You can also add loan accounts, including mortgage or medical debt.
Transactions
The transactions tab lets you add your spending and categorize, add the payee, and which account it came from. The app lets you split transaction amounts between accounts too. For example, if you pay $100 to fill up your gas tank and put half on credit and half on debit, the app will reflect it. This is primarily used for people who prefer manually importing data while making it as specific as possible. You can also add a priority tag to an important transaction. At the top of the transactions tab is a button labeled Inflow. Which, honestly, is just YNAB's way of saying deposits. It features all the same options as debits.
Reports
Reports is where you'll check your spending over time. It features a pretty solid line graph and automatically shows your income vs. spending balances. It's ideal for people that want the bigger picture in a quick and easy format. It also has a net worth section.
Help
The help section is where the app shines. Unlike many budgeting apps that hide sponsored credit offers in the help tab, YNAB actually offers…well…help. The tab contains financial videos, blogs, audio, and a manual for using the app. There's a lot of comprehensive info useful for beginners or experienced budgeters while providing a direct pathway to YNAB experts and I.T. support.
Features, Fees, and Limits
Here are some of the essential things you need to know about YNAB.
Features
One of the most prominent features of the app is the help section. It makes it clear that the company isn't focused on ads, 3rd party commissions, etc. They genuinely want to help you get better control of your finances. That speaks about the people behind the scenes better than any About Us section ever could.
Another thing worth mentioning, although it's less of a feature, is that the app doesn't restrict any function during the trial period. The user truly gets the complete picture of YNAB's offerings before subscribing. Consider that a blessing. Here are a few other features to look forward to.
No ads
Low cost
Reminders
Long-term budget tracking
Auto generates dozens of bill sections to save you time.
Fees
YNAB has a monthly plan for $14.99 or an annual plan for $99.00. Beyond that, there are no fees.
Limits
The only real limit of the app is that it doesn't lend itself to investors. Those looking to enter the stock market, track crypto, etc., must find another app. Beyond that, the sky is the limit.
My Experience
I was genuinely impressed with YNAB's app. It's got all of the budgeting essentials but without being visually overwhelming. A lot of modern apps have dozens of widgets, colors, and buttons per screen. YNAB avoids that by having just a little more than the basics. I was able to enter all of my budgeting stuff easily. And the automatic bill generation feature is a real time saver. Plus, that feature helps you start accurately budgeting the second the app is installed. It's easy to forget all of the bills you pay per month when you start budgeting, especially with streaming services, quarterly bills, etc. But the auto-generation helps prevent that.
Additionally, I personally experienced no glitches while using the app. All in all, I have no real complaints about YNAB.
YNAB makes use of cartoons to add a little fun to budgeting.
Here's me going over my bills.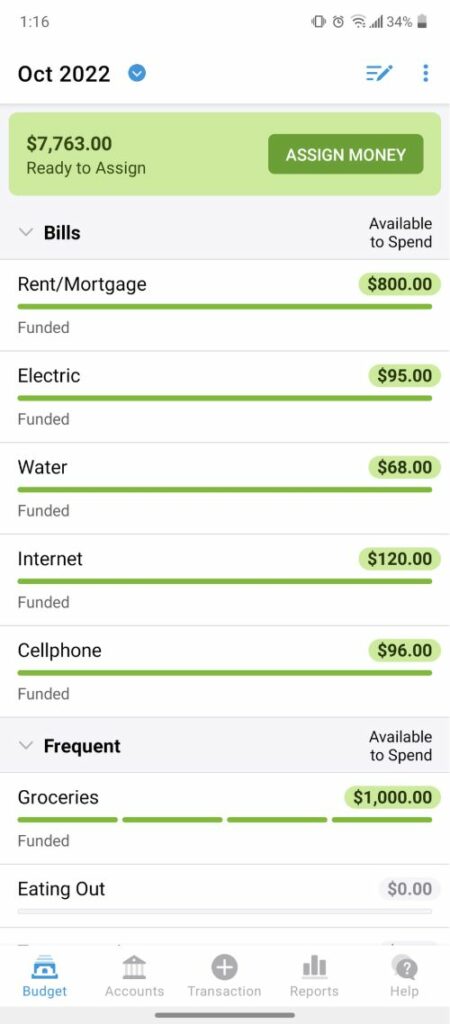 Major Pros and Cons
Here's the good vs. the bad with YNAB.
Pros
Offers budgeting resources and tools.
It has long-term budgeting options.
You're able to input detailed transactions.
No ads.
Cons
No options for users who want to start budgeting.
Is YNAB Safe?
YNAB is entirely safe. And for those of us that err on the side of caution, you don't have to import your bank account. Just manually add in your bills and deposit. Plus, there have been no reports (I checked.) of anyone getting scammed or compromised due to the app.
Alternatives to YNAB
Here are a few of YNAB's biggest competitors.
Mint
Mint has a lot of the same basic budgeting tools that YNAB has. But it offers a more modern, streamlined format. It also helps track your credit score. It's easy to import your accounts which the app then uses to fill out your budget. It also offers a pathway to more complex financial tools through 3rd party offers. The app has a free and paid version. That said, the free version has a significant amount of ads – which bogs down the experience.
GoodBudget
GoodBudget is a modern take on the envelope method of savings. Got an extra $20? Put it in the savings envelope. Starting a new subscription? Create an envelope to keep track of it. The envelope method is older than the internet. But GoodBudget's take on it makes for a more engaging budget. GoodBudget is free. But it does have an upgraded version, GoodBudget Plus.
EveryDollar
EveryDollar's budgeting style lives up to its name. You assign every dollar in your account to a savings goal, bill, etc. Literally, no dollar is left unaccounted for. It's easy to get started, has a free version, and connects you with 3rd party finance experts.
Who Is YNAB Right For?
YNAB is a well-rounded budget that suits practically anyone's needs. But users new to finance and budgeting will get the most value from the app. That's because YNAB's help tab has countless resources tailored to beginners. It's even listed on Lucia's list of the best budgeting apps for teens! That said, even the best of us need a refresher from time to time. YNAB might not be a good fit if you're less concerned with budgeting and more so with credit. The app doesn't offer any direct way to monitor your score or history. 
Final Verdict
YNAB is definitely worth the download. Besides having all the essentials, it also has a user-friendly layout that's easy for the eyes. Plus, the company behind the app, You Need A Budget, clearly has their users' best intentions, or should I say budget, in mind. There are definitely more specialized budgeting apps out there. But for those who just want to log in and make sure our balances are on track, there's really no better app than YNAB. For more budgeting advice, head to our budgeting center for college students!