Copper Banking is a popular financial app designed specifically for kids and teens. With the goal of teaching responsible money management skills from an early age, it can be your fintech ally in guiding your child toward financial literacy.
Thanks to its investment feature and its focus on education, Copper Banking has gained attention as a personal finance tool for the next generation. If you'd like to learn more about Copper before downloading it for yourself, you've come to the right place! From fees to safety, we've broken down the Copper Banking app to help you decide if it's the right fit for your parenting style.
The Summary: Is Copper Banking Good?
If you're considering Copper Banking for your child or teen and wondering if it's the right choice for your family but don't have time for a deep dive, here's the gist of it:
Through a controlled banking experience, Copper teaches kids about money management.
It offers features such as spending limits, savings goals, and parental monitoring of transactions.
The Copper + Investment Plan option also allows kids to start investing with as little as $1 and create a parent-approved portfolio.
The app does not charge monthly fees, making it a cost-effective option for families.
Copper Banking places a big emphasis on financial education and engaging tools for kids to learn about budgeting and responsible spending.
There are potential transaction fees and spending limits that you should consider.
Copper Banking is a great choice for parents who want to actively educate their children about personal finance and investments, while providing a safe hands-on experience.
Copper Banking Details
Copper Banking takes a comprehensive approach to kids' financial literacy. In this section, we'll delve into the details of how the app works, its key features, fees, and limits to give you a better understanding of what Copper has to offer.
How It Works
Signing up for Copper is a straightforward process. All it takes is entering some basic information and uploading a picture of your ID and a selfie for verification. And in just a few minutes, you and your kids can quickly get started with this user-friendly app.
The basic Copper app plan allows parents to set up a joint account with up to five children. Each user has their own access to the app, and each kid has their own debit card.
With this plan, you can monitor and control your child's spending, set savings goals, and track transactions – all while giving your child access to an educational app where they can learn about budgeting and saving.
If you choose to get the Copper + Invest plan (for $3 more dollars per month), your child also gains access to a robust investing platform. The objective of this plan is to go beyond checking and savings to get your child started with investments from an early age.
Features
Copper offers several features that make it a standout banking app for kids and teens. As a parent, you may appreciate the ability to create multiple spending accounts, set spending limits, and receive real-time notifications of transactions. From a child's point of view, some of the best features include goal-setting tools and earning interest on savings – of course, parents also love these because they encourage children to develop savings habits early on.
If you choose the Copper + Investment plan, your child can build a curated portfolio specially designed with their age in mind. This easy-to-manage feature helps kids of all ages develop good investment habits. And because your child can start with as little as $1, it's a great way to learn the power of compound interest even when they only set a small amount aside monthly.
If you come across any problems using the app's features, don't worry. The friendly chatbot is always available to help you sort it out. But if you need human assistance, you can easily send an email and hear back from the Copper team within an hour.
Fees
One of the advantages of Copper Banking is that it has no monthly fees, which makes it an affordable option for any parent who wants a kids' banking solution without additional costs. They also have no minimum balance or overdraft fees.
However, you should keep in mind that there may be some fees for certain activities, such as ATM withdrawals or international transactions. At the time of writing, these are the fees listed on the Copper Banking website:
$4.95 for loading cash via the Green Dot network
2.5% transaction fee plus $0.30 for each debit load
Limits
To help your kids spend responsibly, Copper Banking has certain limits in place. These include daily spending limits, ATM withdrawal limits, and transaction limits. While these restrictions keep your children's accounts safe, they may present a challenge for older teens who may need more flexibility at times. If your teen needs to make a bigger purchase or you need to transfer a larger sum of money, it may be best to consider other options.
My Professional Opinion: Copper Banking
Copper Banking is the perfect financial solution for two groups:
Parents who want to introduce their kids to the basics of personal finance and teach them responsible money management skills.
Parents who want to get their children started with investments and give them hands-on experience with long-term wealth building.
Pros of Copper Banking
The benefits of using Copper Banking are many, and will vary depending on your family's needs and the plan that you choose. Some of the biggest of pros of the app include:
The focus on financial education
The convenience of being able to set up automatic allowance payments
Tools for parents to engage their kids in discussions about budgeting, saving, and spending wisely
The ability to set up multiple spending accounts and savings goals to help your kids develop good financial habits
No monthly fees
Being able to monitor and control your child's spending
The option to build personalized investment portfolios
Learning how to develop an investment strategy
De-mistifying the world of investments
Cons of Copper Banking
While Copper Banking offers a range of features for kids and teens to learn about personal finance, there are also some potential drawbacks to consider:
Transaction fees for certain activities could add up over time, depending on your frequency of use
Limits on spending and withdrawals may also be seen as restrictive for older teens
Investment accounts are limited to Exchange Traded Funds, which may not suit every investor's needs
FAQs About Copper Banking
Got more questions about Copper? In this section, we've compiled parents' most frequently asked questions to provide you with the answers you need to make a decision on this app.
Is Copper Banking safe?
Copper is a safe app for kids, teens, and parents to use. By implementing measures such as encryption and authentication, the app protects your data. As a partner of Evolve Bank & Trust, which has been around since 1925, the funds deposited into your Copper account are FDIC insured up to $250,000.
How is Copper Baking different from traditional bank accounts?
Designed for kids and teens, Copper is an app that focuses on financial education and parental control. It provides features such as spending limits, savings goals, and real-time transaction notifications that may not be available with traditional bank accounts. In addition, Copper also operates entirely through its app without physical branches, offering an investment feature for kids and teens.
How does Copper Banking compare to other kids' debit cards?
With so many options out there, this handy table can help you compare Copper with other kids' financial apps:
| | | | | | |
| --- | --- | --- | --- | --- | --- |
| | Copper | Chase | GoHenry | BusyKid | Greenlight |
| Debit Card | ✓ | ✓ | ✓ | ✓ | ✓ |
| Direct Transfers from Checking | ✓ | ✓ | | | |
| Monthly Fees | | | ✓ | ✓ | ✓ |
| Investment Feature (with Upgrade) | ✓ | | | ✓ | ✓ |
| Parental Controls | ✓ | ✓ | ✓ | ✓ | ✓ |
| Goal-setting | ✓ | ✓ | | ✓ | ✓ |
| Educational Content | ✓ | | ✓ | | ✓ |
Empowering Your Kids with Copper Banking
Overall, Copper Banking can be a valuable tool for parents who want to teach their kids about money management and provide them with a safe and controlled investment experience. With its focus on financial education, features such as spending limits and savings goals make it a useful tool for children to learn good habits. Copper is also one of my top choices for the best kids' debit cards and best teen budgeting apps.
Copper Banking's unique approach to introducing kids to the world of personal finance makes it a good choice for families that prioritize learning and hands-on money experiences. When choosing a banking solution for your kids. Copper Banking could be an excellent choice for those seeking a comprehensive and modern approach beyond what traditional banks offer.
Screenshots From My Experience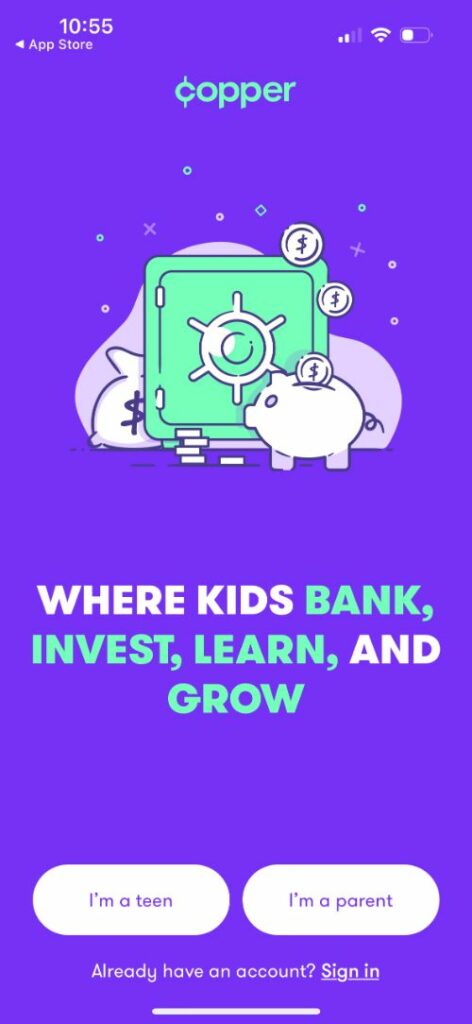 Related Reading