As parents, money management is one of the most important lessons we teach our children. But in today's digital world, cash is no longer king. That's why kids' debit cards are the best way to help children develop healthy financial habits from an early age. But I learned in my search for the best debit card that not all kids' financial solutions are made the same.
With a variety of options in the market, I decided to give GoHenry a try and share my experience with other parents. My goal was to find a tool to motivate my 9-year-old to exercise financial responsibility and encourage smart spending habits. Here's the scoop on what my daughter and I loved, what we'd want to see changed, and why GoHenry might be the right choice for you.
GoHenry In a Nutshell
Perfect for families with an allowance system in place, GoHenry made it easy for us to say goodbye to cash and hello to financial convenience. It's a card + app combo that made me feel in control while giving my daughter a sense of independence and creating opportunities for her to develop money management skills.
GoHenry Card Details
At its core, GoHenry is a prepaid card for parents to deposit their child's allowance. The monthly subscription fee of $3.99 includes a card for your child to make purchases, a parent app for you to stay on top of everything, and a kid's app for your child to monitor their own money.
In my experience, the app's features made GoHenry a powerful tool for our family. On the parent side, it was easy to set up automatic deposits to ensure my daughter always got her allowance on time. For peace of mind, I decided to go ahead and set limits on how much or where she could use the card.
This way, I knew that the app would let me track my child's spending and keep an eye on her habits. Here are a few screenshots from the GoHenry app showing how I did that.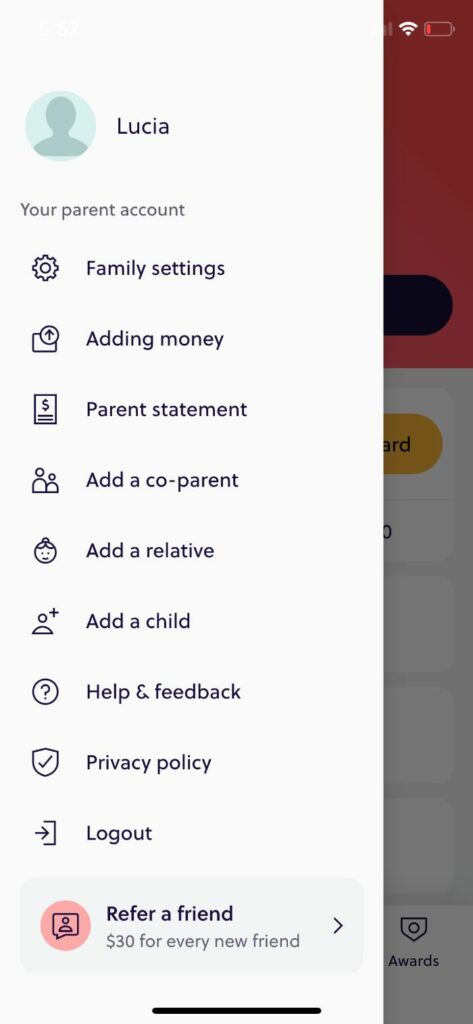 Here is the debit card homepage where I can navigate to several settings.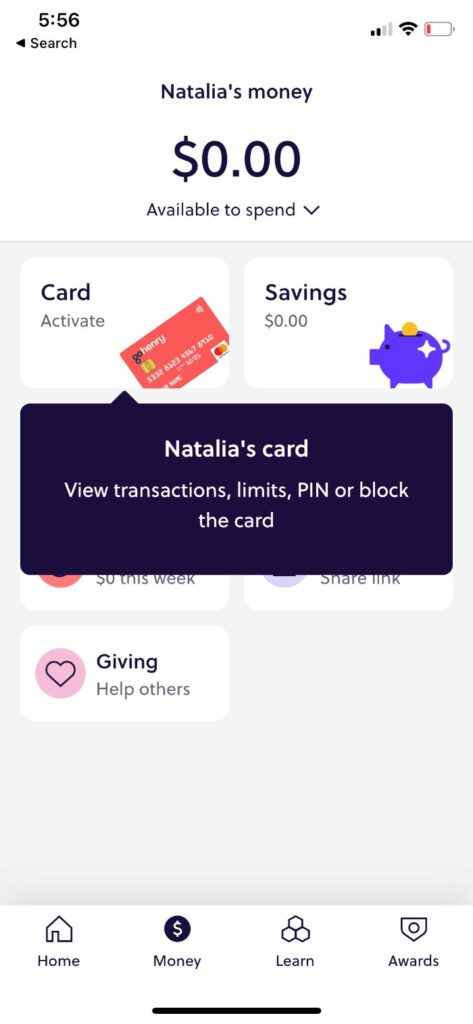 I was able to set spending limits on where and how much she could spend.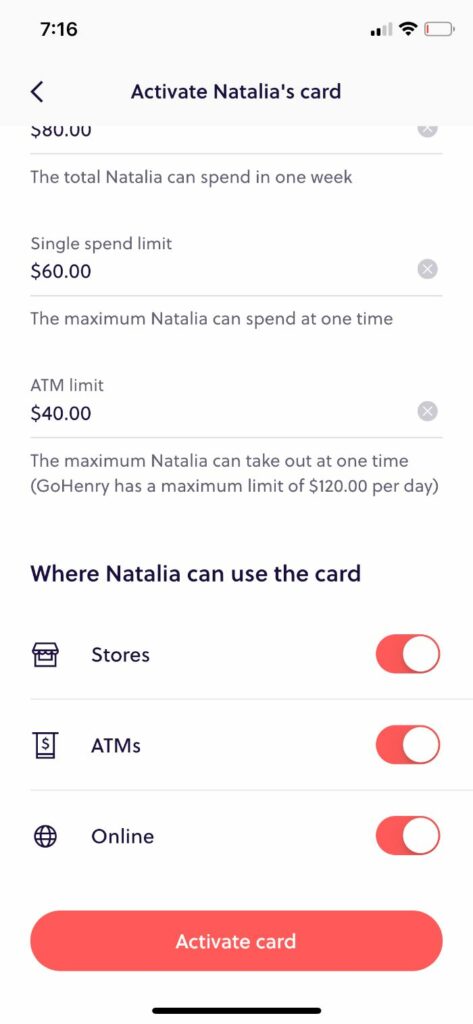 Account setup and funding was easy (more on that topic below).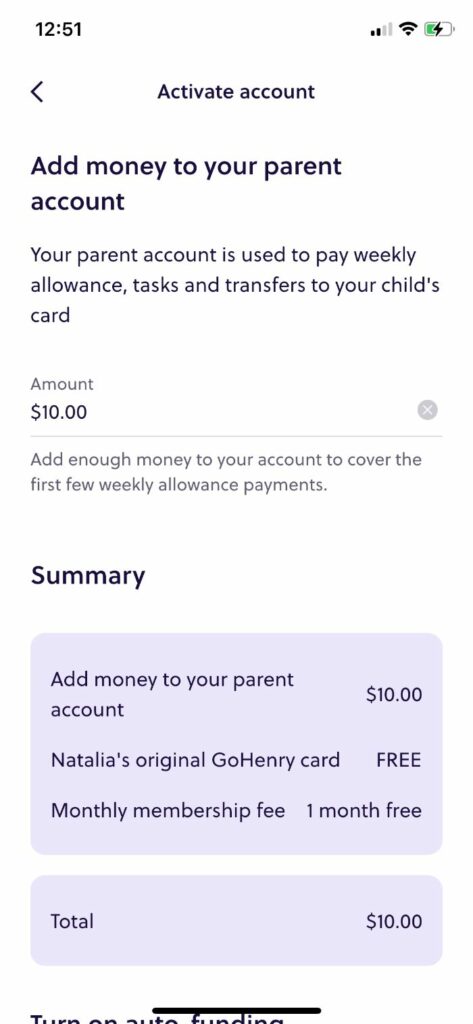 The money transfer process is also pretty intuitive.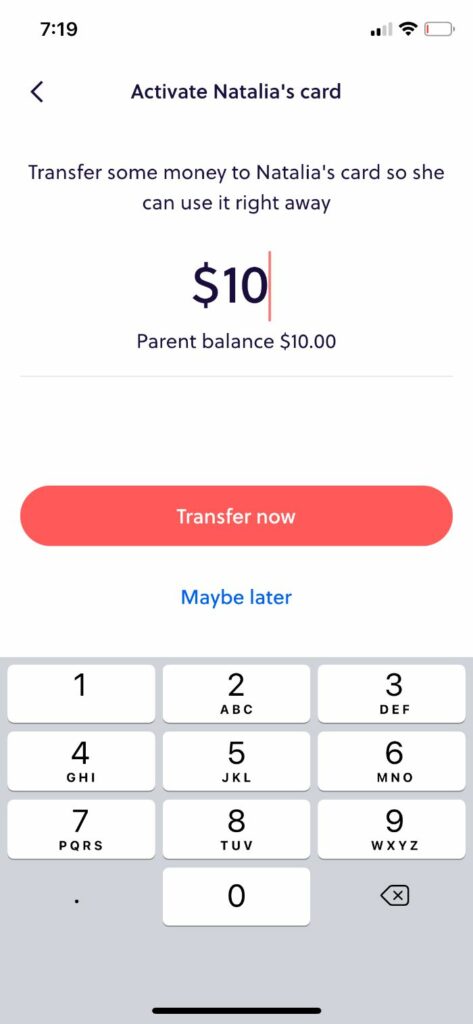 I am able to see a transactions log for everything she is spending.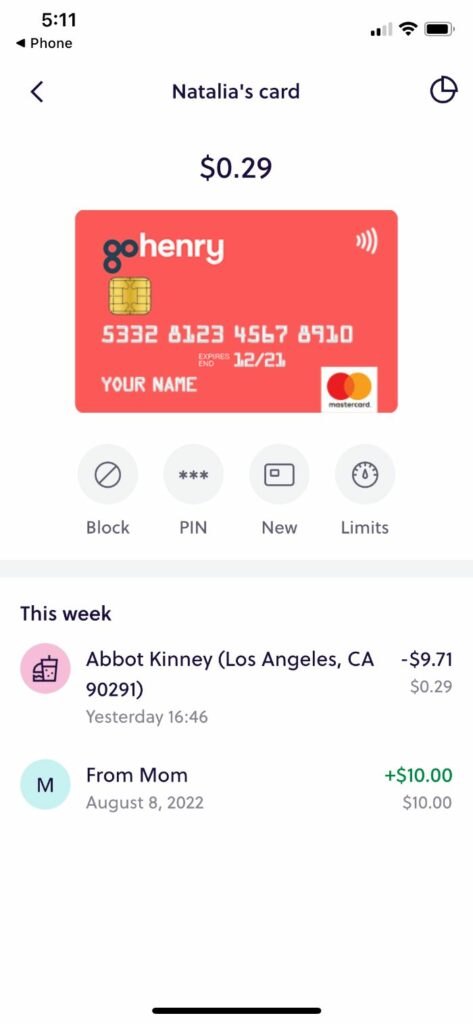 I can also see a helpful breakdown by spending category.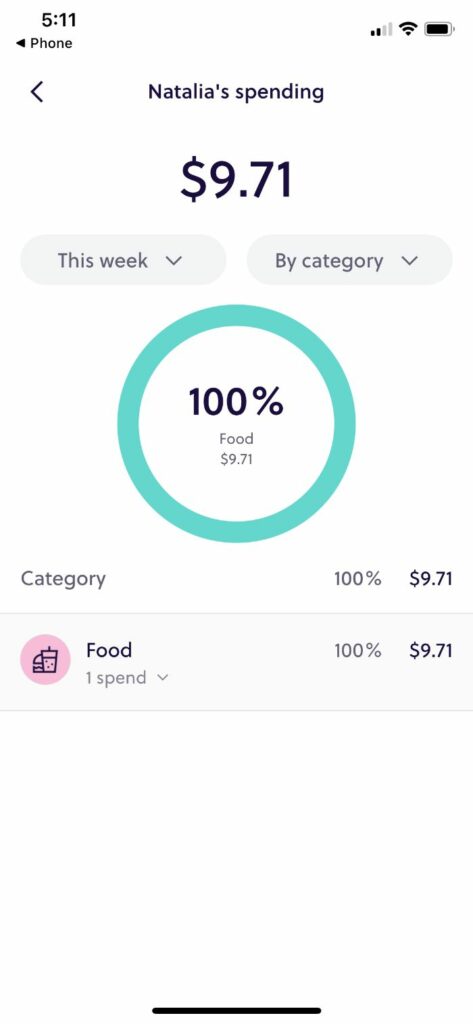 The kids' side of the app was about making financial management a fun experience. GoHenry is filled with learning opportunities and fun money lessons to support my child's financial education. My little one got such a kick out of the money missions that it felt cool to pick up advanced money skills.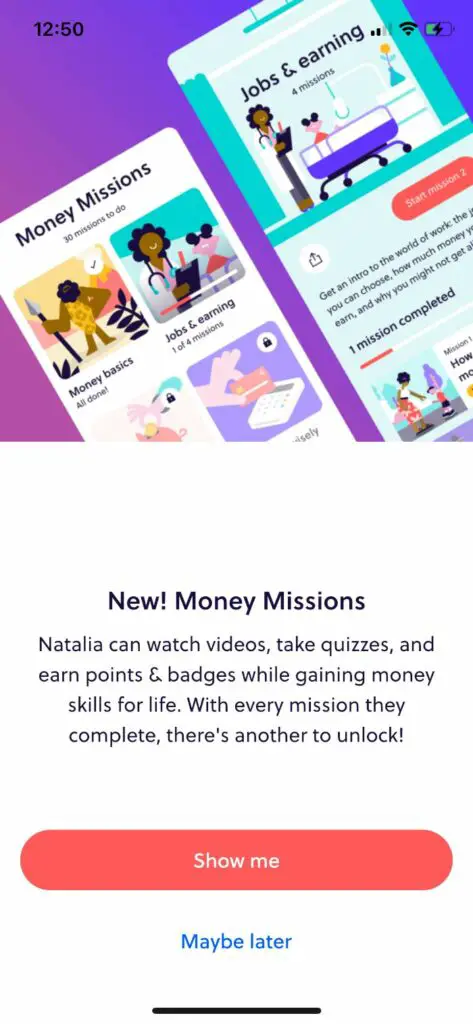 The mission about banks was one of her favorites, and it sparked a great conversation between us. We got to talk about the purpose of savings accounts, short-term versus long-term goals, and the type of stocks she's interested in learning more about.
Getting Started with GoHenry
Creating our GoHenry account was a seamless process. The app is available for download in the US and the UK and only requires some basic information to get started. It includes a free one-month trial, and, after the first month, the monthly cost is $3.99 per child.
I found the interface very user-friendly. Once I was done with the initial setup, my daughter's card was on its way, and we got it in 5 to 10 days.
If your child is anything like mine, they'll count the days for their GoHenry card to arrive in the mail. Once we received it, we began the activation process. First, we had to transfer funds into my parent GoHenry account. This process took a few seconds and only required credit or debit card information.
While there was no transfer fee, I noticed a minimum of $5 and a maximum of $500. Funding the account prompted me to choose my child's account settings, including:
Weekly allowance
Weekly spend limit
Single spend limit
ATM limit
The type of establishments where she can use her card
With these settings in place, I moved the funds from my parent account to my child's card. I then received a notification that my child's card was active, and the app automatically generated a PIN for her.
Once she was all set, my daughter was thrilled to actually use her card. So off we went to the ice cream shop, where she got herself a yummy treat and felt super grown-up to use her card. Then, she realized she didn't have much money left – which was great because it brought up the topic of budgeting and making smart choices about how to use your money.
Screenshots: GoHenry Setup Process and Funding My Account
The GoHenry app is free to download in the App Store.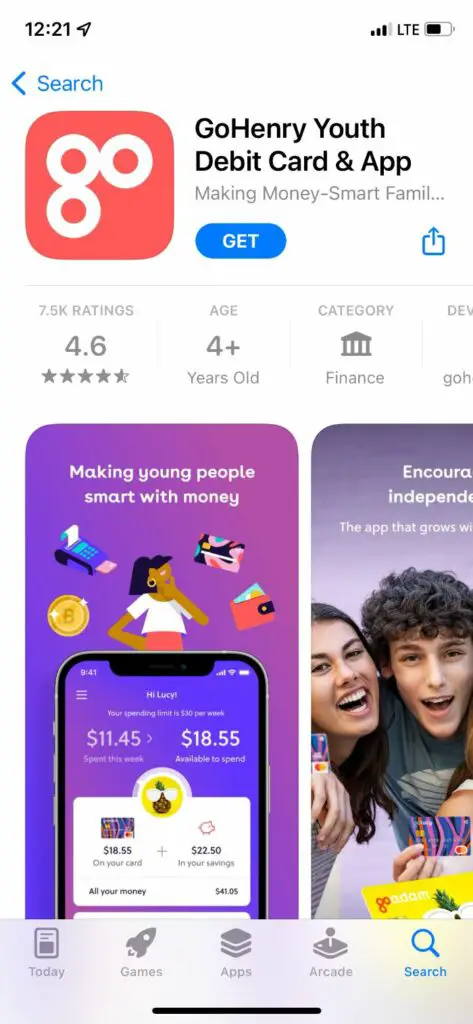 The app contains two sections – one for parents and one for kids.
The setup process asks you for some information about you and your child.
The information you hand over about your child is just the basics. I felt pretty comfortable submitting this type of information.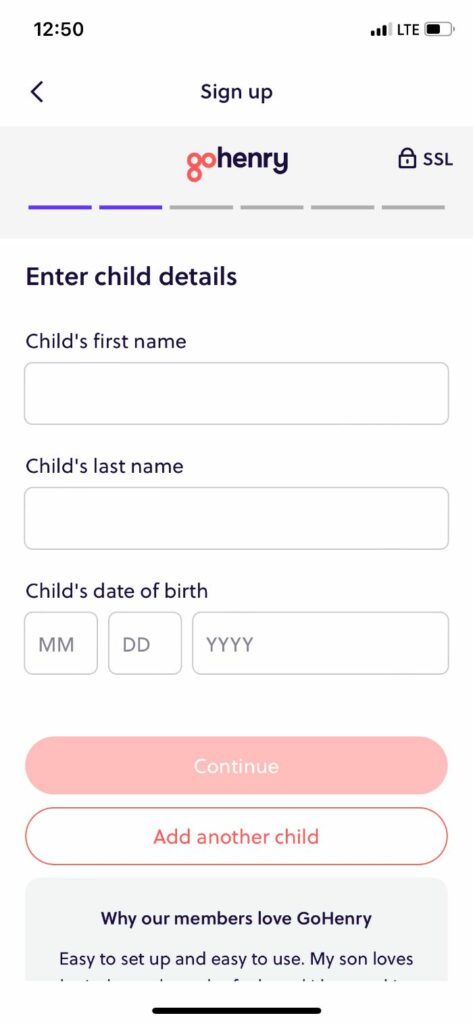 GoHenry asked me to read a few disclosures during the signup process.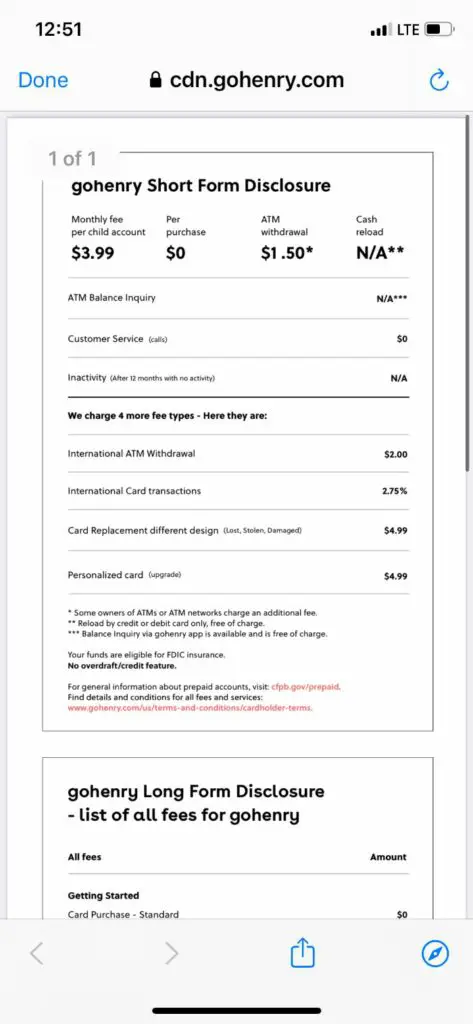 After you fill out some basic information, you can order your GoHenry debit card.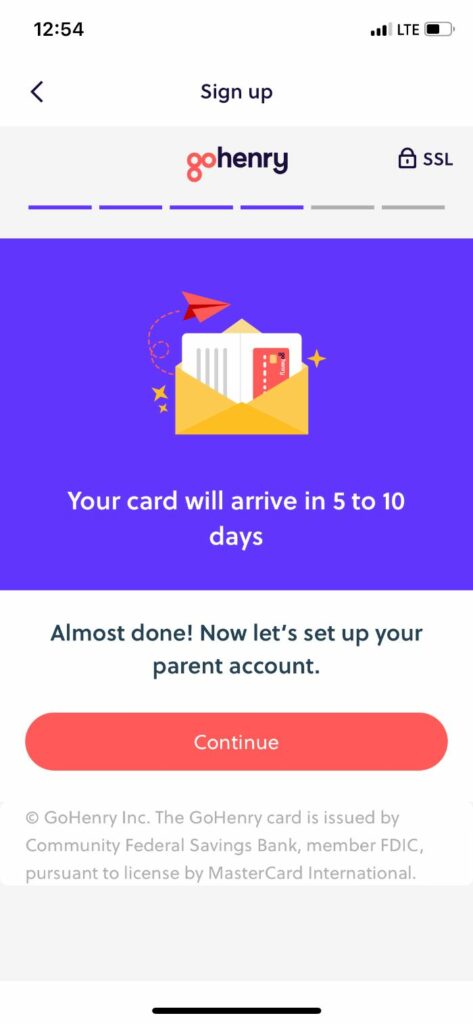 You'll be asked to fund your account after ordering your debit card.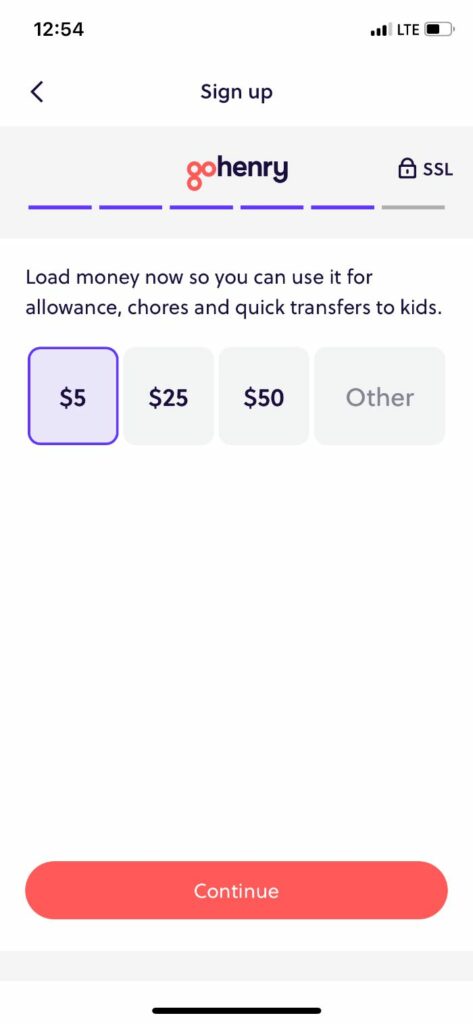 You'll be taken to a screen with your total. Like I mentioned before, your GoHenry membership is free for the first month, then $3.99 per child per month.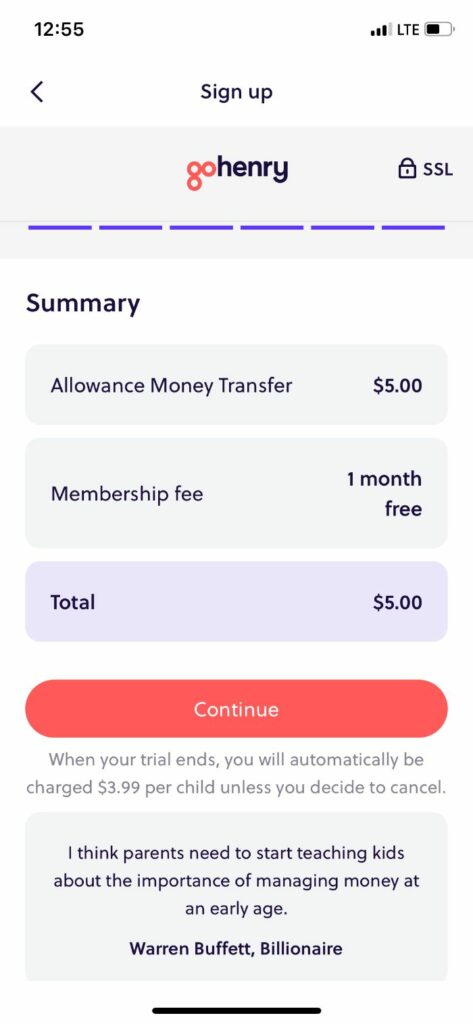 I was asked to connect my bank account to fund the debit card.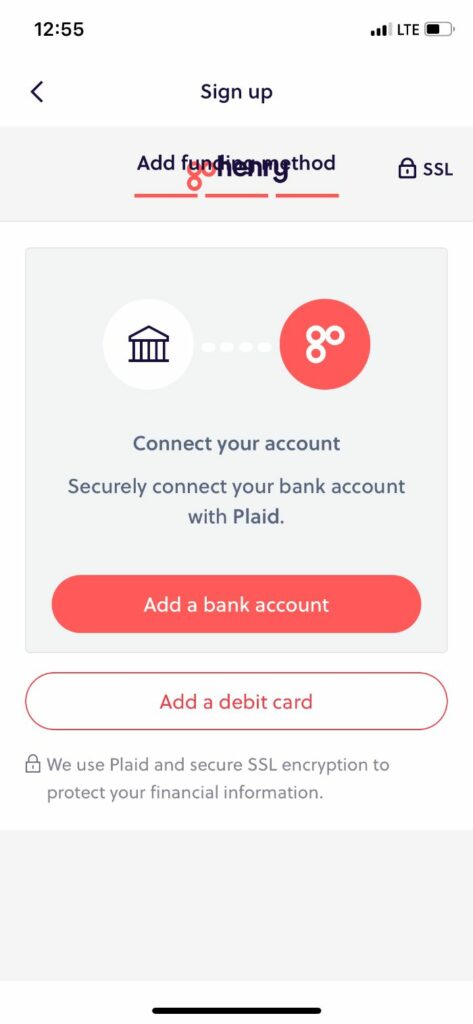 You can also connect a debit card.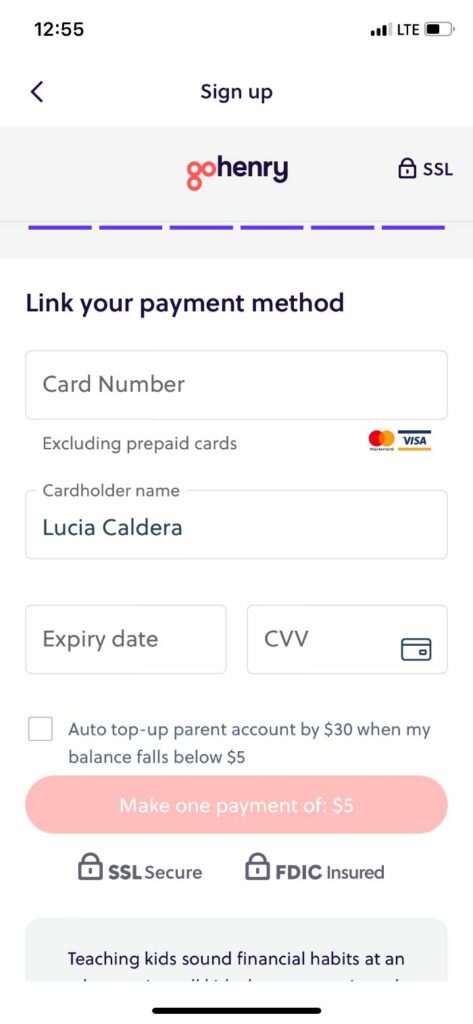 You'll move on to getting your child logged in after setting up your bank information.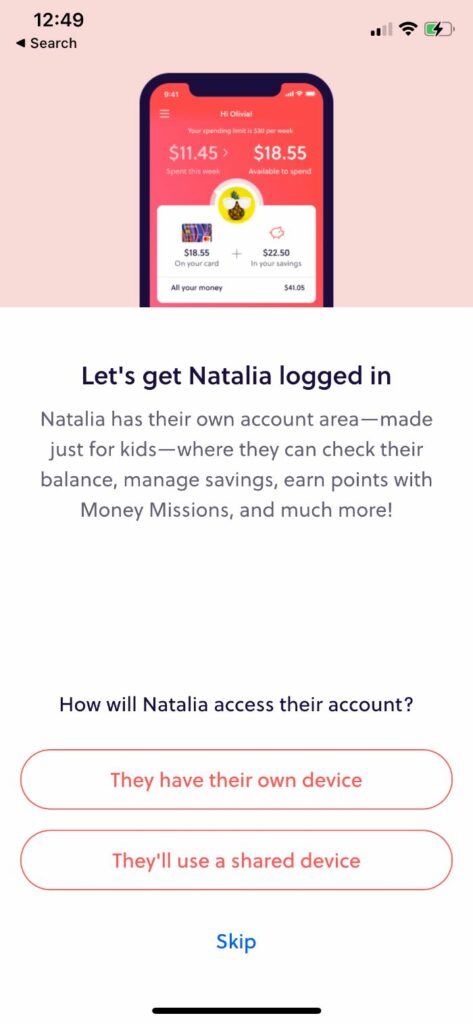 Allowance setup comes after this.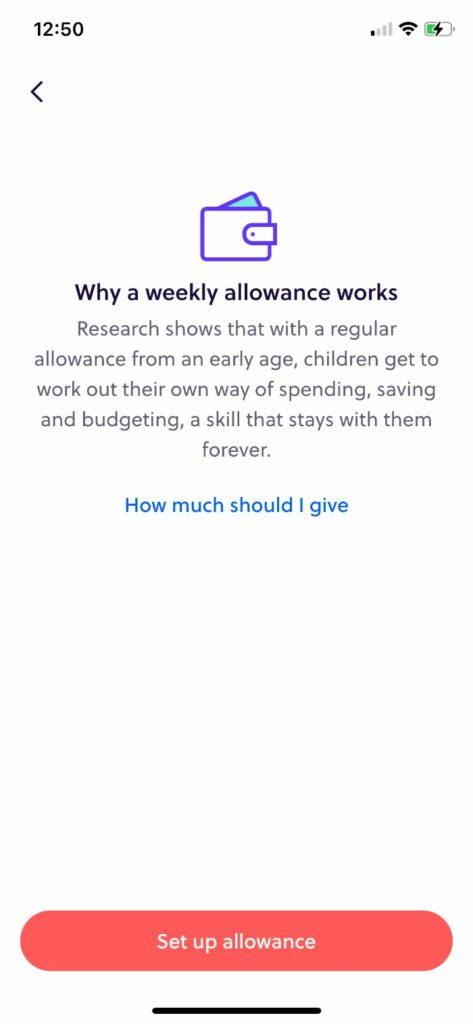 You can also enable notifications.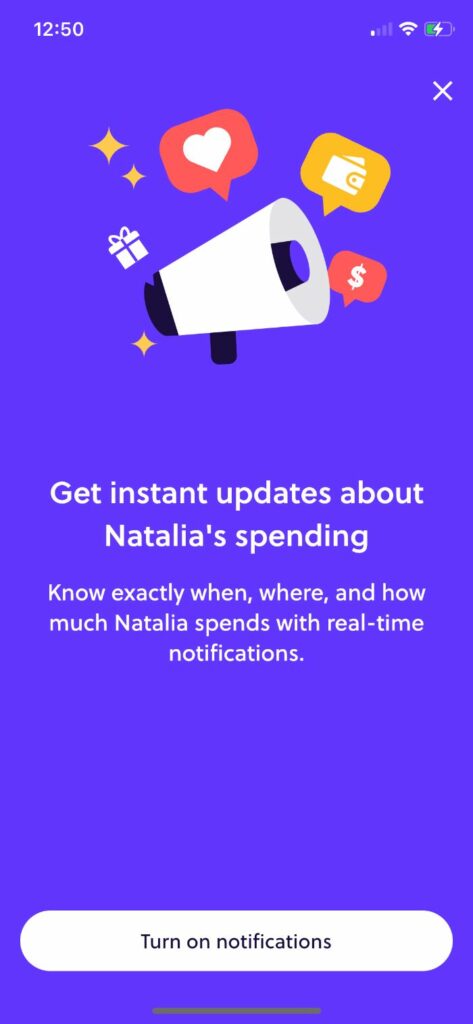 How Much Does GoHenry Cost?
GoHenry costs $3.99 per child per month. You get a one-month free trial to start.
Is GoHenry Safe?
Although GoHenry is not an FDIC-insured bank, its cards are regulated by financial institutions. This offers peace of mind because I know that if my child's card is lost or stolen, I can freeze it and block the PIN to prevent others from using it.
It's also great to know that, as a way to help keep kids safe, the GoHenry card cannot be used at the following establishments:
Gambling/betting establishments
Businesses that serve alcohol, including bars, nightclubs, and some restaurants)
Dating websites
Inbound teleservices
Gas station pumps
Off-licenses
Wine & beer wholesalers
Tobacco shops
Pornography or adult entertainment venues
Pros of GoHenry
The switch to GoHenry revolutionized how our family does allowances and my daughter's approach to money. Some of the things we like best about it include:
$0 fees on purchases
Instant money transfers
Real-time alerts
Easy to reward your child when they do extra chores at home
Automated allowance
Adjustable settings that grow with your child
Ability to set savings goals
Retrievable pin
Gift link for family and friends to support your child's financial journey
Fun games that motivate kids to learn
Security restrictions
Cons of GoHenry
Of course, there are things about GoHenry that we wish were different. Some of these are:
$1.50 ATM withdrawal fees
Can only use credit or debit card to fund the account
Child cannot choose their own PIN
Card may not work at some restaurants due to alcohol restrictions
Difficult to cancel
GoHenry vs. Other Prepaid Cards for Kids
As I said in the beginning, no two cards are the same. Based on the research I did before choosing to try GoHenry, here's what some of their competitors offer:
Greater parental controls
Access to investment platforms
Fixed fees, regardless of the number of children in the family
Interest on savings
Cash back
Check out my other reviews below to compare options.
Kickstart Your Child's Financial Journey with GoHenry
As a parent of two, I can say that GoHenry is an excellent app for younger children to experiment with money management. That's why I named it the best debit card for younger kids! The platform's games are perfect for kids ages six to 12 to better understand earning, saving, spending, and donating money. Would I also use GoHenry for my teenager? No. But once my youngest becomes a teen, I think GoHenry will have provided her with the knowledge and experience to transition to a traditional checking account.
Related Reading