As parents, we all remember when we opened our first bank account. It was a big step that marked the beginning of your financial life. Is your child ready for their first account? What's the best way to introduce them to the world of banking? And how do you keep the experience safe for them?
For parents who want to empower their kids with a debit card, a Chase First Banking account could set the foundation for a lifetime of good money habits. With this tool, you can start to teach financial responsibility while letting them gain first-hand experience and have fun at the same time.
If you're a Chase customer with a kid between the ages of 6 and 17, here's what you need to know about creating an account for your child – from a fellow parent who uses and loves Chase First Banking.
Chase First Banking: The Executive Summary for Busy Parents
Created in 2020 for their existing customers, Chase First Banking is a user-friendly debit card designed with families in mind. In a few steps, you can add your child's account from your mobile app and manage it alongside your other Chase accounts.
Because this is a parent-owned account, it's linked to your own Chase login for 24/7 access, complete visibility, and easy management. In this way, it offers more than just the convenience of a debit card. It's a way to teach kids about money management, encourage saving, track chores, and motivate them to learn more.
If you're wondering if Chase First Banking is right for you, I can say from experience that it's the ideal solution for parents of kids ages 6 to 17 who already bank with Chase and want to keep it all under one roof.
Chase First Baking Debit Card Details
For families who are ready to introduce children to debit cards, Chase First Banking is a great way to start. Here are all the details on this simple yet complete financial tool to help you decide if Chase First Banking is right for you.
How It Works
It's important to point out that First Banking is only available to existing Chase customers and that you must have the same address as your child to open an account.
If you're ready to get started, just scroll down to the "Open an account" section of the mobile app, select "Checking," tap on the "Kids & Students" tab at the top of that section and choose "Chase First Banking."
Chase First Banking accounts can only be opened online. However, the process is pretty straightforward, and if you need help, you can just call your local branch for guidance.
Features
Once you've opened the account, you'll notice that it's split into three: Spend, Save, and Earn. These key features will help you teach your child about money management basics. Here's how each works:
Spend
Linked to your child's debit card, Spend is the portion of the account balance available for your child to use anywhere. In the settings, you can create limits to establish where and how much your child can spend in a single transaction.
Spend also allows you to add an extra layer of protection by allocating money to specific spending categories or businesses. So, if you know your child will eat lunch at the mall with friends, you can help them manage their spending even if you're not there.
All you have to do is put some money in the "Restaurants" category and some funds under "Spend anywhere." This gives you peace of mind that your child will have money set aside for eating while it also teaches them how to budget.
Save
As an adult, you already know savings are important to money management. But for your child, it might be challenging to set money aside. This is why savings goals can be a helpful tool that motivates kids to save. Every time they transfer money to a specific goal, they'll see this dollar amount grow and will be much closer to their objective.
If your little one has an eye on several high-ticket items, setting up a savings goal for each is an easy way to keep their money organized. It's like having many savings accounts in one – and much easier than an envelope or jar system for today's digital natives.
Earn
All kids love to make money. And it's important to teach them the value of their earnings from an early age.
For families who give kids allowances, Chase First Banking lets you automate transfers into your child's account. You can choose the amount, frequency, and how much of that allowance goes to savings or spending money to create the allowance system that fits your parenting style.
In addition to a regular allowance, you can also assign chores to help your kid earn a little extra money. This can help your child learn about the value of their work and take advantage of earning opportunities to reach their goals.
Depending on the chore, you can decide how much you pay and when. You can also make it a repeating chore if you want to encourage your child to walk the dogs every morning or take the trash out at night. When the chores are done, you just check them off, and Chase automatically transfers the reward right to your child's account.
Other Important Information
Those are the basics of the Chase First Banking account. Here's some additional information for you to keep in mind:
There are no fees associated with this account
Parents set the limits on how much children can spend or withdraw from ATMs
There are no fees on cash withdrawals when you or your child use Chase ATMs
Our Experience with Chase First Banking
As a happy Chase customer, opening a First Banking account was my go-to when my daughter was ready for her first bank account. Besides needing an upgrade from her allowance jar, she was also earning money from her pet-sitting business, and keeping the cash at home wasn't cutting it anymore.
We talked about it, discussed the responsibilities of having a debit card, and headed right to the computer to open the account. The process was very easy, and my daughter had an account within minutes.
Then, we set up her allowance and talked about how to spend it responsibly. We discussed budgeting and explored the different settings to help her manage her expenses. Once we received her debit card in the mail, we deposited the cash she had at home and headed right over to her favorite ice cream shop to test the card!
Pros and Cons of Chase First Banking
It's been two years since my daughter had her First Banking account, and the experience has been very positive for her. The best part has been to see her savings grow over time!
Here are some of the pros and cons that we've encountered with Chase First Banking:
Pros of Chase First Banking
No monthly fee: This is a big plus for kids who use the account for everyday expenses and savings and cannot afford to pay fees
Parental monitoring: It's easy to keep track of where my daughter spends and help guide how she uses her money
Seamless transfers: It only takes seconds to move money from my account to my daughter's or from her savings to her debit card.
Goal-setting: We've said goodbye to envelopes and jars with this digital solution that makes it even more fun for my child to save toward specific goals.
Cons of Chase First Banking
$3 fee at non-Chase ATMs: As with other banks, fees are associated with using out-of-network ATMs.
Cannot only receive transfers from parent accounts: In today's online banking world, it would be very convenient for kids to receive Zelle gifts from family members or online payments from clients.
Can only link one parent to the account: Having both parents linked to the account would make management easier.
FAQs
If this is your child's first debit card, you may still have questions about Chase First Banking. Below are some of the most common inquiries that parents ask when considering this banking solution for their children:
Q: Is the Chase First Banking Debit Card safe?
A: Yes. The account is FDIC-insured, and parents have complete visibility to monitor their kids' spending and set limits as needed.
Q: Are there overdraft fees for Chase First Banking accounts?
A: Chase does not charge overdraft fees on their First Banking accounts. If your child spends more than what was available on their card, the payment might not go through, or the account may become overdrawn, depending on your settings.
Q: How many Chase First Banking accounts can parents have?
A: A parent or guardian may have up to five Chase First Banking accounts.
Q: Can my child receive a direct deposit in their Chase First Banking account?
A: No, only the parent can transfer funds from their own account to the child's account. Teenagers needing direct deposits may be better off with a Chase High School Checking account.
How Chase First Banking Debit Card Compares to Other Kids' Debit Cards
Choosing the right debit card for you and your child depends on your needs, goals, and personal preferences. The following table can help you compare Chase First Banking with other kids' debit cards for a quick reference of each card's features and benefits. You can click the links in the column headings to read about my experiences with each service (yes, me and my kids have used each one).
| | | | | | |
| --- | --- | --- | --- | --- | --- |
| | Chase | GoHenry | BusyKid | FamZoo | Greenlight |
| Debit Card | ✓ | ✓ | ✓ | | ✓ |
| Direct Transfers from Checking | ✓ | | | | |
| Monthly Fees | | ✓ | ✓ | ✓ | ✓ |
| Investment Feature (with Upgrade) | | | ✓ | | ✓ |
| Parental Controls | ✓ | ✓ | ✓ | ✓ | ✓ |
| Goal-setting | ✓ | | ✓ | ✓ | ✓ |
| Educational Content | | ✓ | | | ✓ |
I also recently reviewed Copper Banking and Step Banking if you'd like to check out my thoughts on those services and apps as well.
Final Thoughts
Chase First Banking is an excellent solution for families who want to introduce their children to traditional banking. I elected it one of the best debit card for kids, too! Integrated savings, checking, and allowance make it easy for parents to set up transfers and help kids manage their finances. For our family, Chase First Banking has sparked many money conversations. It's become an integral part of our financial education and one of the tools we use daily.
Screenshots From My Experience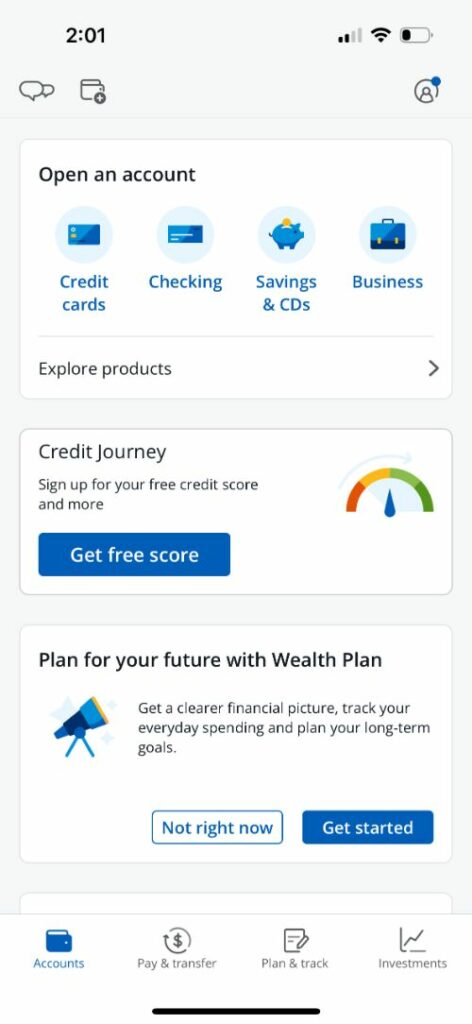 Related Reading