As parents, we want our children to have a bright future. Right? One way to help our kids achieve this is by teaching them about money. That's where modern financial apps come in. But with so many options, how do you find the right one for your child?
We recently took a deep dive into Step Banking – a first-of-its-kind platform that aims to bridge the gap in modern financial education. Designed to empower younger generations to make informed financial decisions, this app seeks to help kids build credit, invest, save, and spend wisely.
It sounds like Step checks all the boxes for parents who want to raise money-savvy kids, doesn't it? Let's take a closer look to learn more about Step Banking and how it can help your kids achieve their financial goals. I downloaded the Step app and tried everything out – below is my summary and opinion.
Step Banking: A Quick Summary
Created to teach teens financial literacy, Step is a financial technology company that offers hands-on experience through its banking app and a secured spending card. This card is a blend between debit and credit, allowing teens to access funds in their account and build their credit history – all without worrying about monthly payments, interest, or fees.
To help teens get ahead in their money management skills, the app offers:
Early direct deposit
Separate parental monitoring
Access to ATMs
Access to investing in the stock market, with parental permission
Access to crypto investments, with parental permission
Step Banking: The Details
There's a lot that Step Banking offers the next generation – which is great because it can help prepare kids for the financial responsibilities of adulthood! Before opening an account for your child, let's take a look at all the details to help you and your family make the most of this tool.
Step Account Setup
Setting up your Step account is easy. All you have to do is enter your basic information (name, address, date of birth, and the last four digits of your social security number), and you're ready to go.
Once you've done this, it's time to unlock your teen's Step card. Using your teen's contact information, the app sends your child a text message with a link for them to sign up and start receiving money from you. This also unlocks contactless payments, making it easy for them to make purchases from their cell phone.
No phone? No problem! If your teen prefers the analog life, you can fill out their info manually and receive their physical card in the mail.
By linking your bank info or debit card to your Step account, you can transfer money to your child's Step card. You can also set up direct deposit for your child to receive their allowance on a regular basis.
How Step Banking Works
Like other modern financial apps, Step Banking makes money transfers easy for teens. It allows your child to receive money from you and even lets them transfer funds between friends.
On top of this, there's a savings feature to help your child get closer to their financial goals. With a progress bar and different savings buckets, it keeps young ones motivated to work toward those concert tickets or that holiday shopping spree!
But since we're still talking about kids learning about money management, Step has parental controls in place. Through the app, parents can monitor their child's spending habits and keep an eye on their balances.
How the Step Card Works
The Visa Step card is a secured spending card – a combination of debit and credit that uses the money in your child's Step account to pay for purchases. At the end of the month, this card can report to the credit bureaus to help your teen start building a credit history. This reporting is optional and available for you to opt-in in your profile settings.
It's important to point out that the card's spending limits are backed by the funds in your child's account. In other words, they cannot overdraw their account or incur debt. In fact, the Step secured spending card does not require monthly payments and doesn't charge interest. It's simply a debit card that reports to the credit bureaus if you choose to.
Step Banking's Best Features
As a practical financial app designed with teens in mind, Step Banking has fewer features than other children's financial platforms. But it's still a robust tool with several notable features that make it popular among teens and parents. Some of these include:
Positive credit building before the age of 18
Savings goal-setting
Rounding up to boost savings
Money back at select merchants
Automated allowances
Instant money transfers
Up to four family members per parent account
Optional investing with as little as $1
Access to direct deposit two days earlier
Money 101: a free, six-lesson financial literacy program
Step Banking Fees & Limits
While other kids' financial platforms charge monthly fees, Step is 100% free. Since your child cannot overdraw their account, there are no overdraft fees to worry about. And because the Step card is a secured spending account – not a credit card – there are no interest charges, either.
Wondering how Step makes their money if they don't charge users any fees? Instead of hitting you or your child with additional charges, Step Banking partners with merchants to receive a portion of their processing fees.
Step Banking: An Unbiased Opinion
Traditional financial firms make it challenging for youth to gain hands-on experience with their products and services – especially when it comes to credit. That's why Step Banking is a revolutionary platform that helps kids learn about money management and financial tools in a low-risk environment.
Ideal for teenagers, Step can help your child transition from a kiddie money mindset to a more mature financial outlook. Before your child goes off to college and starts making their own decisions, Step is a great in-between to help them save, budget their income, and even start investing. Plus, it's a safe approach to credit building while your child is still under 18 to help them access lower interest rates when it's time to rent their first apartment or buy a car.
The Pros of Step Banking
Families that enroll in Step banking enjoy these benefits when using the app and card:
Easy transfers in and out of your account
The option to link the Step card directly to a digital wallet
$5 referrals for every person you get to sign up
Rewards for saving
Optional investing platform
No monthly fees
No overdraft fees
No minimum balance requirements
Free ATM withdrawals
The Cons of Step Banking
A few disadvantages of the Step banking app and card include:
Inability to deposit cash into the account
Limited parental controls
No in-app educational features
$250 daily withdrawal limit
FAQs on Step Banking
Do you still have questions about the Step Banking app and card? We've got you covered! The following FAQs can provide answers about this innovative financial tool.
Is Step Banking Safe?
Yes, Step Banking is safe. With services provided through Evolve Bank & Trust, funds in your Step account are FDIC insured up to $250,000.
And with the Step card provided by Visa, there is a Zero Liability Policy that protects you from unauthorized transactions.
Is Step a Secured Credit Card For Teens?
The Step card is not a credit card. It's a secured spending card that uses preloaded funds to help teens and kids build their credit score. But since purchases must be covered by money in the account, there are no interest payments or monthly fees and no risk of overdraft.
Can Step Hurt Your Credit Score?
No. Because it's a secured spending account, the Step card can only help build a positive credit history.
How Step Banking Compares to Others
With so many kids' financial apps out there, comparing and contrasting is important. Here's a snapshot of what other platforms offer to help you determine which app is right for you and your family. Click on the links in the headers to read about my experiences using each one.
| | | | | | |
| --- | --- | --- | --- | --- | --- |
| | Step Banking | Copper | Chase | BusyKid | Greenlight |
| Debit Card | ✓ | ✓ | ✓ | ✓ | ✓ |
| Direct Transfers from Checking | ✓ | ✓ | ✓ | | |
| Monthly Fees | | | | ✓ | ✓ |
| Investment Feature (with Upgrade) | ✓ | ✓ | | ✓ | ✓ |
| Parental Controls | ✓ | ✓ | ✓ | ✓ | ✓ |
| Goal-setting | ✓ | ✓ | ✓ | ✓ | ✓ |
| In-App Educational Content | | ✓ | | | ✓ |
Financial Literacy, One Step at a Time
Many parents worry about throwing their kids in at the deep end of adult money responsibilities when they haven't even dipped their toes in the financial waters. This is a legitimate concern, considering how many young people end up in debt or unable to save for their future.
Step Banking is a solution to this problem. It's a solid in-between for teenagers to experiment with money management before they become grown-ups. It can help you teach your child how credit cards work without fear of getting into debt. It offers credit-building for minors minus interest fees. It lets your child set savings goals and reach them. Plus, it provides an age-appropriate financial education program. I even named it the best debit card for teens in my recent research.
If you want to make money matters less overwhelming for your teen and prepare them for financial success, consider Step Banking as a tool to expand their financial skills.
Screenshots From My Experience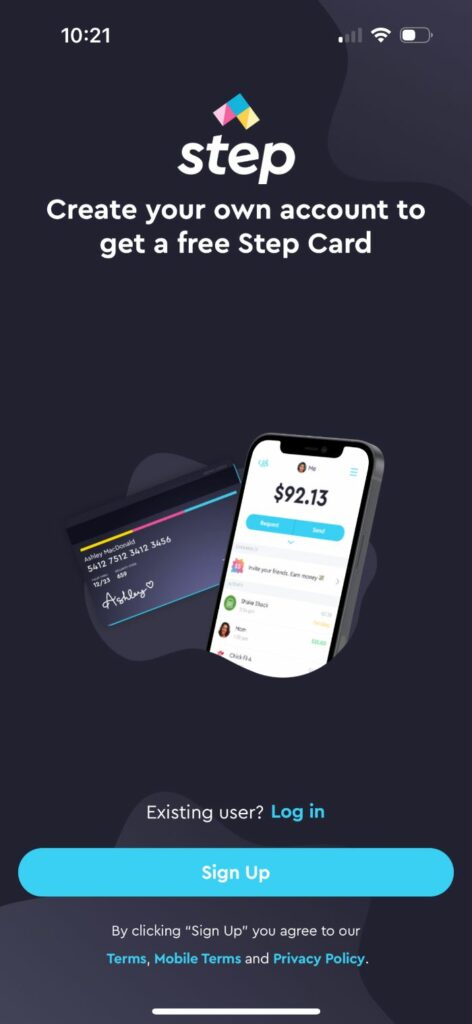 Related Reading