If I had a dollar for every time I played bank with my kids, I'd be retired by now! From depositing cash to reviewing monthly statements, playing bank is one of the best games to help young children learn basic money concepts. But once they're older, most kids are ready to move on from pretend play – and that's when teaching financial skills can become less fun.
By adding technology to the mix, FamZoo makes virtual banking feel like pretend play with a fresh new twist. With this app, parents play the role of "bank," and kids get to be the "customers." In the process, children get hands-on money management experience while parents tap into a powerful financial tool that goes well beyond allowances.
Ready to gamify financial education? Here's how to make it exciting with FamZoo.
The Scoop on FamZoo
FamZoo is a flexible app that lets you set up two types of accounts for your children. The first is an IOU, which works as a ledger where you record credits and debits based on your child's earnings and expenses. The second account option is a prepaid card where you load money for your children to use at stores and other retailers.
How FamZoo Works
One of the best things about FamZoo is that it works for a variety of families and age groups. Mixing and matching the IOU account with a prepaid card allows you to adapt to your child's changing needs and maturity level. Here's how each of these accounts works:
FamZoo IOU Account Details
Is your little one too young for a prepaid card? Would you rather experiment with alternatives before giving them a card? Are you more comfortable with giving your child a cash allowance? FamZoo's IOU account may be the perfect solution for your family!
FamZoo IOU works in several ways. Some parents like to use this account as a pretend financial system or virtual bank. This feature gives kids a risk-free space to become familiar with money and establish good habits before they use real money.
For parents who prefer cash allowances and want to help their children understand the value of money, the IOU account is a great in-between. If your child doesn't quite grasp the concept of swiping a card, you can use FamZoo's IOU as a ledger. This is perfect for when your child receives a birthday check from grandma or is setting part of their allowance aside for a big purchase.
FamZoo Prepaid Card Details
As your child gets older or gets a better feel for their finances, you can introduce the FamZoo prepaid card. Some families introduce the prepaid card slowly, keeping some money in IOUs and another portion in the card. Others feel comfortable putting all of their child's allowance on the card and overseeing their expenses. The great thing about FamZoo is that you can find the perfect sweet spot for each of your children and adjust as needed.
Just like a bank debit card, the FamZoo prepaid card works at any establishment that accepts Mastercard. If your child wants to withdraw cash, they can also use ATMs. Remember that although FamZoo doesn't charge fees for ATM withdrawals, the operator may charge for transactions or balance inquiries.
Prepaid FamZoo cards are safe, convenient, and kid-friendly. Since you load cash onto the card, children can only spend their available balance. For many parents, this reassuring feature helps avoid overdrafts while ensuring that kids don't spend more than what they have.
With your app's membership fee, you receive up to four prepaid cards ready for you to load and let your kids get hands-on financial experience. If your family is larger than that, you pay $3 per month for each additional card.
Prepaid cards allow parents to track their children's expenses. You can easily transfer money from your account to their card, automate allowances, or give your kids a monetary reward when they go the extra mile.
Favorite FamZoo Features
FamZoo is a powerful app that grows alongside your children. With so many features, you're sure to find your own favorites. Here are some of the ones tools that I found most helpful for my own family and that you may also enjoy:
Checklist Alerts: Perfect for parents who are tired of reminding their kids to do their chores, these alerts do the nagging for you! Task overdue? Chore about to expire? New job on the list? Your kid will get a friendly reminder from the FamZoo app, and that's one less thing for you to worry about.
Savings Goals: Your child's objectives are easier to accomplish when they can track and see their progress. Whether your young saver wants to buy a new bike or they're raising funds for the local shelter, FamZoo's goals feature keeps them motivated throughout the way.
Family Loans: If you're comfortable with the idea of lending your kids money, FamZoo can be a helpful app to let families experiment with loans. If your little entrepreneur is eager to start their own car wash but needs seed financing for this venture, you can play the role of a bank here and help them get started. You can even charge interest on this loan to create a realistic experience from an early age.
Savings Interests: If you've got a saver in your hands, you can also encourage them to keep up with this great habit by paying interest on the money they set aside. This puts the power of compounding into perspective and motivates your kids to save up.
FamZoo Fees & Limits
FamZoo offers the following membership plans to fit your budget:
| | |
| --- | --- |
| Billing Terms | Fee |
| Monthly | $5.99 |
| Six Months | $29.99 ($4.33 per month) |
| 12 Months | $39.99 ($3.33 per month) |
| 24 Months | $59.99 ($2.50 per month) |
Some additional fees that you may encounter include:
1% for instant bank transfers
$4.95 for in-person cash reloads at GreenDot or Mastercard rePower
$3 fee to replace lost cards (though the first two replacements are free of charge)
$25 for express delivery of prepaid cards
The FamZoo Experience, IRL
I signed up my oldest to use the prepaid debit card and my youngest just to use the FamZoo money management features.
We took advantage of the money management tools FamZoo offers children of all ages. Because this robust app offers a variety of setups for the IUO account, I chose the Spend/Save/Give Plan for my 10-year-old and the Teen Budget Plan for my 16-year-old.
With the FamZoo IOU account, my daughters were able to create a budget for themselves. With my help, we determined their priorities and how they were actually spending their money. This was an eye-opening experience, especially for my teenager, who loves to eat out and get snacks with friends.
With a budget in place, she was able to see how her spending patterns translate to dollars and how that affects her cash flow. It was the first step toward achieving her financial goals, making better decisions, and becoming more confident about her money management skills.
Although my daughters' allowances are independent of chores, we found using the FamZoo Checklist feature helpful. With this tool, the girls could stay on top of their chores and make sure nothing slipped through the cracks. It's also a good way to offer rewards when my kids go above and beyond.
FamZoo Pros and Cons
Deciding if FamZoo is right for your family depends on many factors. The following pros and cons list can help you get a better idea of what the app offers. However, you can also try the app for 30 days and experience it yourself.
Advantages of FamZoo
Flexibility and adaptability to families of different sizes and ages, to make the money management experience fun for all
Peace of mind of FDIC insurance for prepaid card funds
Parents can pay kids interest on savings and charge interest on loans
There's a private online community for parents to connect with others
You have the option to split expenses with your kids, so they can cover certain payments in the proportion that you see fit
IOU accounts are free to set up and manage, even if you don't enroll in a FamZoo subscription
Disadvantages of FamZoo
Mobile setup is not user friendly
The app doesn't pay any interest on savings, parents have to cover this if they want to encourage their children to save
Monthly fee is a bit higher than other companies, but paying in advance makes it significantly lower
How FamZoo Compares to Other Kids' Debit Cards
Every kids' financial app offers different features to suit your family's needs. At the end of the day, all prepaid debit cards work similarly: you add money to the card, your child swipes it at stores or online, and the funds come out of their available balance.
Where FamZoo really excels is in adjusting to each family's and child's needs. Unlike other apps, it gives kids more control over their budget. The app also offers a big-picture view of your child's spending habits over time to help kids understand the importance of goals and wants versus needs.
The app makes it easy for parents to track kids' expenses and help them stay on top of their chores. With automated allowances and loans, you can empower your kids with the funds they need to achieve their goals while supporting their financial education.
I personally reviewed several kids' financial education and prepaid debit card apps, which you can view below.
FamZoo: The Family-Friendly & Safe App for Kids of All Ages
FamZoo understands that one size does not fit all – especially when it comes to personal finances.
Whether you have a driven kidpreneur who needs a loan to start a business, a big spender who could use help with budgeting, or a college-bound teen who's saving up, FamZoo is the versatile tool that can help your children master money matters.
And as your children grow, this same app can take you from playing pretend bank to achieving your family's long-term financial goals.
Overall, I think it's a good experience, but I ultimately did not select it for my picks of the best kids' debit cards of the year.
Screenshots From My Experience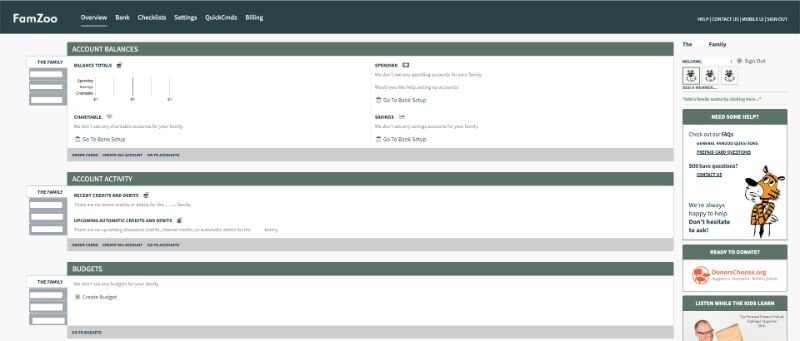 Related Reading