Budgeting is key to financial success. But here's the thing, the wrong budgeting app wastes time, money, and energy. And as a college student, those three things might be in short supply. No worries, though. I've got your back. To save you all those things above, I've reviewed one of the most popular new budgeting apps available, Fudget. Today, we're going to cover the ins and outs of Fudget, how it can benefit you, and a few tips and tricks I learned along the way.
Quick Summary of My Opinion and Recommendation
Fudget is an interesting app. It has a unique approach to budgeting that's not right for everyone. But if you're looking for an app stripped to the basics, it might be a good fit. It doesn't have a lot of screens or trackers to manage, which is a good thing if you're overwhelmed by other budgeting tools. Plus, it offers a small level of visual customization for those that want to upgrade.
What Is Fudget and What Does It Do?
Fudget is a budget planner. Unlike many competitors, it doesn't track spending or import accounts directly. But it's great for saving and tracking monthly goals. Honestly, there's not much more to it than that. It does offer an upgraded version that includes Dropbox connectivity, no ads, a calculator, and a few other non-essential goodies.
How It Works
Fudget uses a simplified budgeting approach. You'll create your budget, name it, and then add any money to it. You can add infinite budgets to suit your needs.
Features, Fees, and Limits
Essentially all of Fudget's features are locked behind an inexpensive paywall. Instead of a subscription, it's a one-time charge of $1.49. You'll never need to upgrade unless you want improved convenience from the app. Honestly, Fudget's biggest strength is also its biggest weakness. The app has none of the standard features associated with budgeting apps. That makes it easier to navigate and far less likely to glitch.
It also doesn't offer any financial options like literacy, loans, credit monitoring, etc. It's genuinely a what you see is what you get, situation. For better or for worse, Fudget's simplicity is what the app is known for. And after a week of using it, it's easy to see why.
My Experience
It took about 5 minutes to get set up in Fudget. From there, the limitations of the app became clear. Personally, I prefer a budget app that has hard numbers and data instead of prioritizing a flashy interface. So, on paper, Fudget was perfect for me. But, it was a little too bare-bones for my taste. It's not tailored to daily budgeting, doesn't offer graphs, and there's no primary account function. That said, these are all personal preferences. As a budget planner, it does exactly what it is supposed to – help plan my budget.
Here's how a few of my expenses look in Fudget.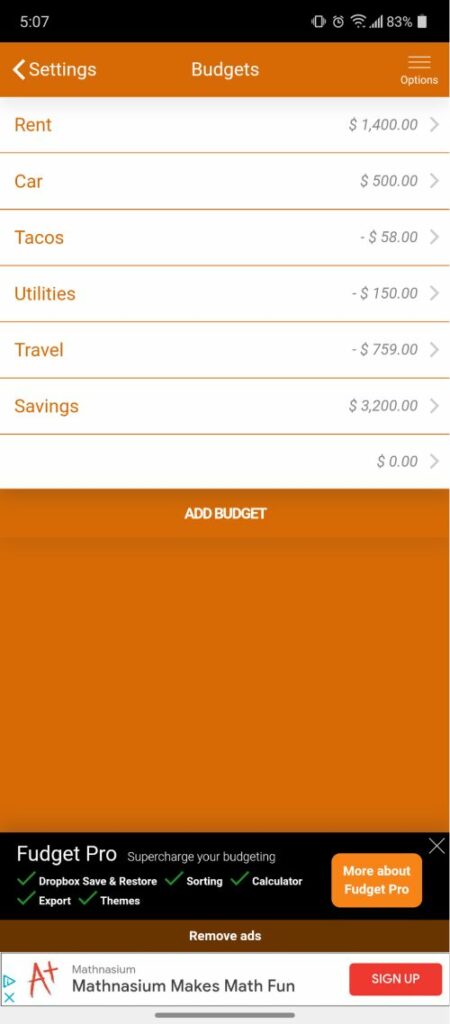 Major Pros and Cons
Here are the ups and downs of Fudget.
Pros
Simple to use and understand
Offers a free version
Cons
It lacks a lot of budgeting app essentials like accounts, automatic transfers, etc.
Ads are distracting
Is Fudget Safe?
Fudget is safe mainly because it doesn't import or require any of your info. Plus, you can add a password for extra protection.
Alternatives to Fudget
It'd be tricky to find a budget app as minimal as Fudget. But here are a few budgeting apps that I prefer. You can see a full comparison in my article on the best budgeting app for college students.
GoodBudget
GoodBudget, much like Fudget, prioritizes a simple approach to budgeting. You'll create "envelopes" to store money in. For example, create an envelope labeled insurance and then enter your monthly payment. It's as simple as that.
YNAB
You Need A Budget is definitely one of my favorite apps. It has essentials like money tracking, graphs, and automatic transfers. But it also has an in-depth resources tab filled with finance education videos and blogs. It has no ads or 3rd party offers. And it originated as a YouTube channel dedicated to budgeting. All in all, I highly recommend it.
EveryDollar
EveryDollar is ideal for people who keep airtight budgets. It helps you assign literally every dollar to bills, savings, spending, etc. Potentially, EveryDollar can help save you more money than any of its competitors. The deciding factor is whether or not you'll stay on budget. It has a paid and free version.
Wally
Wally is an iPhone-only app that's practically the exact opposite of Fudget. Users can create a highly detailed budget, monitor spending, import accounts, and even track global currency. Wally has a sleek, modern interface, and its free version has everything needed to budget. You can check out my entire Wally budgeting app review for more thoughts.
Who is Fudget Right For?
Fudget's best for people who prefer the broad strokes of budgeting instead of daily tracking. It's also ideal for those who get overstimulated by flashing colors, dozens of widgets, and multiple screens. It's also worth a go for people that want to dip their toe into budgeting but aren't sure where to begin. Because Fudget has a minimal design, it's great for finding exactly what you want and don't want from a budgeting app. And because it doesn't store any personal info, it's definitely one of the safest options available.
Final Verdict
I prefer a pass / fail system for budgeting apps. With that in mind, Fudget passes. It lacks many of the features I personally look for in an app. But it does have what you need to get started with budgeting. Again, Fudget's not right for everyone. That said, it's simply irreplaceable for those that thrive with Fudget.