With my oldest daughter going off to college soon, money management tools are top of mind for us these days. It's important to me that she feels confident in her financial skills, and for her, this means finding the right app that helps her transition into adulthood.
This is why we decided to give the Monarch app a try. With a 360-approach to personal finance, this app helps you track all account balances and investments on the same platform.
After reading up on it and comparing Monarch with other options, it seemed like a user-friendly solution with a modern approach toward money management. We downloaded Monarch to preview what the app is really like, and here are our results.
Summary
Designed specifically for college students, Monarch is a game-changing app that can help you manage your finances effectively. With this platform, students can effortlessly track their expenses, set realistic budgets, and gain valuable insights into saving and investing.
Some of the best features that Monarch offers include:
Net worth syncing – so you always know where your finances stand
Investments – so you can track your portfolio performance at all times
Financial goals – a helpful tool to hold you accountable and give you a sense of financial direction
Budgeting – because living within your means is easier and more fun than you may realize
Spending insight – so you always know where your money's going
Transaction list – another good way to see what comes in and what goes out
Recurring transactions – the easiest way to track those subscriptions and only pay for the memberships you truly use
No more spending more than what you can afford or feeling in the dark about your finances! With this innovative tool, you'll feel empowered to take control of your financial well-being. It's the beginning of healthy spending habits that can truly pave the way to a secure future.
What Is Monarch and What Does It Do?
Simply put: Monarch simplifies financial management for college students. By automatically tracking expenses and categorizing transactions, this user-friendly interface makes it painless to set budgets and receive real-time notifications.
The best thing about Monarch is that it offers personalized recommendations on saving and investing. For many students and young people just starting their financial journey, this is an empowering solution to feel informed about your decisions and achieve the goals that matter most.
Features and Fees
One of Monarch's best qualities is the amount of features it provides its users. Without being overwhelming, it offers a wide array of options to meet your financial needs.
The following is a rundown of what Monarch has to offer and the price behind it.
Features
Many features come with Monarch. These are a selection of the ones that my daughter and I found best for college students.
Budgeting Tools
The budgeting feature on Monarch is perfect for college students looking to cut back on expenses and save some money. Users can set prioritized budgets for various spending categories. Plus, you receive real-time notifications to help you stay within your financial limits.
Savings Goals
With this feature, you can track your progress every day and stay motivated. Whether you're saving up for your next spring break trip, textbooks, or just looking to save some cash, Monarch knows exactly how to help you in the process. Simply let the app know about your individual savings goals, and you're on your way to success!
Personalized Recommendations
Ever wish you had someone to give you money advice when you need it most? Monarch can be there for you.
The app provides tailored insights and recommendations on savings, investing, and optimizing your spending habits based on the goals that you set for yourself. Over time, this will help you build healthy money habits – something you will benefit from in the long run.
Notifications and Reminders
It's easy to forget your goals when you're not in money-mode. But with Monarch, you always stay on top of your financial game! No matter where you go, the app's got your back with upcoming bill reminders and notifications about your financial milestones.
With Monarch, staying organized, responsible, and in control of your finances is easier throughout your college years and beyond.
Fees
Monarch offers a 7-day free trial, so you can test it out and see if it's right for you. Once the trial expires, the subscription costs $89.99 if paid annually or $9.99 per month.
There are no other hidden fees, and if you ask me, the subscription cost can save much more by helping you avoid overdraft fees and keeping you on track with your financial goals.
Monarch Money, IRL
There's reading about an app, and then there's using it IRL. To find out if Monarch Money was right for my future college student, we needed to test it out and see how it actually works. Here are the highlights of our experience.
Goal-Setting Made Easy
What we quickly learned from Monarch Money is that the app empowers you to dream big and turn your financial goals into reality. Want to buy a car? Make it a goal! Hoping to move to a big city when you graduate college? Why not? You can make it happen! It's just a matter of staying consistent and keeping the goal in sight.
But to have that long-term outlook, you also need financial clarity today. That's why Monarch Money is so cool, because it lets you rank your goals based on priority and allocate funds accordingly in your monthly budget.
So, whether you're saving for a semester abroad or to pay off your student loans as fast as possible, Monarch can help. Its intelligent algorithm calculates realistic timelines for you and makes it easier for you to stay on track.
Monitor Your Investments
Sure, retirement seems like a lifetime away…But you want to get there, right? That's why Monarch Money takes your investment journey one step at a time and provides you with real-time info on your portfolio.
By linking your investment accounts in one single platform, Monarch analyzes your portfolio performance to keep you in the loop on how your accounts are doing. This insightful data empowers you to make informed decisions and stay on top of your strategies – even if you're a novice investor.
Cash Flow
Ever heard the saying "cash is king"? It is. That's why your cash flow is so important. But with Monarch Money, managing your cash flow has never been easier.
You can effortlessly keep tabs on how much money is coming in and going out of your accounts. Plus, the app helps you discover financial trends you might not be aware of. With this clear picture of your financial habits, you can make sure that your spending aligns with your values and goals.
Monarch even goes the extra mile by categorizing and grouping your expenses, so you get a visual and intuitive snapshot of where your hard-earned money is going. It's like having a personal bookkeeper who helps you take control of your cash flow like a pro.
Adding Family Members
Monarch Money goes beyond individual finance management by allowing you to add family members to the platform. With the ability to connect multiple banks, credit cards, investment accounts, and loans, Monarch becomes a centralized hub for all your family's financial information.
Sure, you may be on your way to becoming an independent adult or a young professional. And Monarch will help you get there. But, in the process, you may want to include other family members. So if you're still linked to your parents' account, the app makes the transition seamless.
Net Worth
You're more than just your bank account balance, and with Monarch, you can paint your whole financial picture. Even as a college student, you want to start thinking about this early on.
If you've invested in crypto, want to buy real estate one day, bought your first new car, or inherited jewelry from a relative that counts toward your net worth. Monarch Money makes it easy to include those in your big financial picture. Plus, as your money matters become more complex, the app can adapt alongside your financial growth.
Pros & Cons of Monarch
Still undecided about Monarch? Consider both the pros and cons when weighing your options:
Advantages of Monarch
These days, it can be hard to find a finance app that really works for you. But, after giving Monarch a try, I can confidently say that it's an excellent solution for college students. Here are a few reasons why:
The app is straightforward and easy to use
It automatically tracks expenses and categorizes transactions
Monarch helps set and manage budgets effectively
There are a variety of resources available that you can use far beyond your college years
It's a platform that promotes healthy spending habits
It can reduce financial stress while increasing financial knowledge
You receive real-time notifications to stay on top of your spending
Disadvantages of Monarch
Overall, Monarch Money gets the job done, and it does it well. It keeps all the info you need in a single app while also making it straightforward.
Besides the slightly limited availability of supported banks and financial institutions, Monarch seems to do it all! It's a comprehensive solution that integrates bookkeeping, financial planning, investment management, and cash flow elements to give you a well-rounded financial foundation.
Monarch Money FAQs
Still have questions about the Monarch app? Don't sweat it; here are some of the most common questions and our answers:
Is Monarch safe?
Yes! Because Monarch uses read-only data, the software is not able to move any of your money or make changes to your finances. It only presents you with information and offers insights, so you can make better choices. But you are always in control, and only you can move money to and from your accounts.
Who is the Monarch app right for?
Monarch can be used by anyone! Although it is particularly useful for college students looking to better manage their finances, it's also a great tool for young professionals, couples, parents, and more.
Are there alternatives to Monarch?
An alternative to Monarch for college students seeking financial management tools could be apps like Mint, You Need a Budget (YNAB), or Personal Capital. These apps offer similar features, such as expense tracking, budgeting, and goal-setting.
Final Verdict on Monarch Money
Monarch Money is the go-to money app for college students, simplifying the complexities of everyday financial management. With its user-friendly interface and powerful features, my daughter and I found Monarch to be a practical tool. It was empowering for her to feel in control of her finances and confident that she was making intelligent money decisions.
Whether you're a freshman just starting your college journey or a senior preparing to step into the real world, Monarch can become your trusted companion to navigate the world of personal finance. With Monarch by your side, you can wave goodbye to financial stress and start to build a solid foundation for your future.
Screenshots From My Experience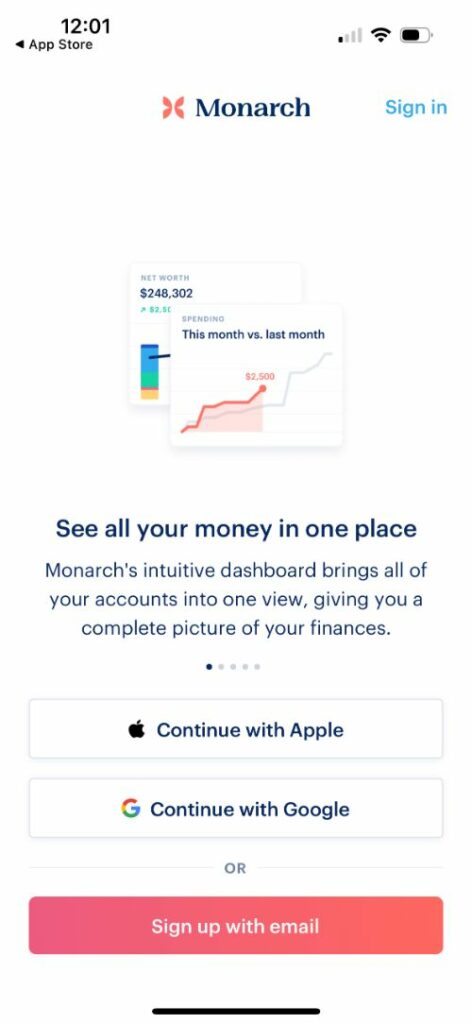 Other Money Management App Reviews
Check out our money management for college students hub for more great Kids' Money content!